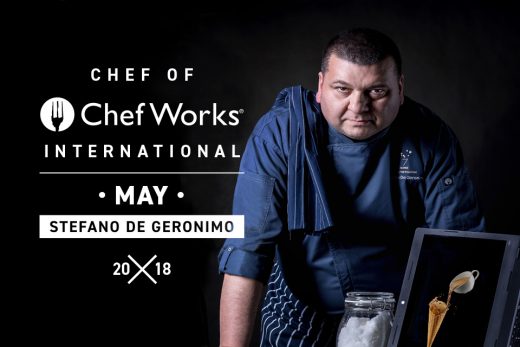 Chef Stefano De Geronimo has had a lot of different titles in a career that stretches back to the 1980s. He's worked his way up from commis to executive sous chef to executive chef. Somewhere in between he was also an F&B director.
For the last two years he's worked under the title of managing director and founder of Seven Senses Total Dessert Solution – an ambitious mix of manufacturing, marketing and branding. From creating Italian gelatos to French pastries and cold press juices, De Geronimo and his staff are – as the name indicates – looking to offer a total solution.
"We have an amazingly creative and talented team," he said. "We don't sell products. We offer solutions."
Born in Brescia in the northern part of Italy, De Geronimo has traveled the world, absorbing as much information as he could from the chefs he's worked under and the regions where he's cooked. He's lived and cooked in Canada, the U.S., Cuba, Jordan and Cypress, among others. He's settled (for now) in Shanghai, China, where Seven Senses is based.
"Brescia is my hometown, but Shanghai is my future," he said.
De Geronimo has drawn from many influences. He credits his mother, grandmother and great grandmother from the old country as his greatest mentors and advocates. But he didn't always want to be a chef.
"When I was young, as all the other children, I would like to be an astronaut but you usually need a lot of money," he said in a previous interview. "My second dream was to be a fireman but … we can say it is not the most suitable job for my robust body."
And yet it was the kitchen where he ended up. Prior to Seven Senses, he had risen to be executive chef at Westin Hotel in Sanya, Hainan, China before moving over as executive chef at the Marriott Parkview in Shanghai. During that journey he developed many flavor profiles, including his current specialty, Aglio Olive Peperoncino. And he loves relaxing with chocolate, brandy and "a good Cuban cigar."
His team at Seven Senses uses the Hartford Chef Coat from Chef Works.
---
---