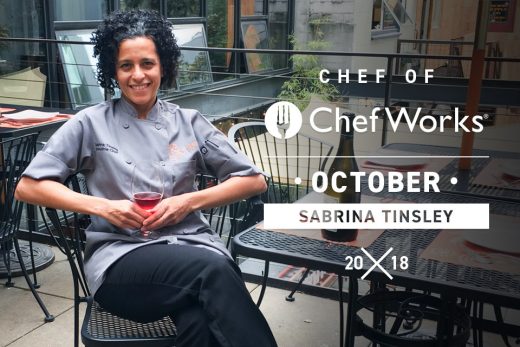 ---
Each month we feature a Chef of Chef Works. If you're a fan of Chef Works gear and are interested in being featured, email marketing@chefworks.com. Pictured above is our October CoCW, Executive Chef Sabrina Tinsley, photographed at Osteria La Spiga in her Morocco Chef Coat. 
---
If you're going to be in Seattle this weekend, you might want to swing by Osteria La Spiga on Sunday, Oct. 7. The restaurant will be celebrating its 20th anniversary and Executive Chef and Co-Founder Sabrina Tinsley is pulling out all of the stops.
You might know Tinsley from appearances on Iron Chef America and Guy's Grocery Games. But locals know her for her "right out of Italy" cooking. She took some time to chat with the Chef Works blog about her chance meeting with her husband, growing up in Alaska and why she would have loved the opportunity to cook for Prince!
Congratulations on 20 years! How did La Spiga come about?
Sabrina Tinsley: I met my husband in a chance meeting at a café in Austria. We met and fell in love and I moved to Italy with him. There we opened two food shops and ran those for five years. It was then that we made the decision to move back to the United States. My sister was already living in Seattle so that's where we picked. We built La Spiga while we were still in Italy. My brother-in-law designed the furniture. We had everything shipped there and we opened La Spiga in 1998. In 2006, it was time to expand and that's when we moved to our current location.
What was your background before living overseas?
ST: I grew up in Fairbanks, Alaska. It was very much a farm-to-table experience before we were calling it farm-to-table. My mother was an avid farmer. We had some livestock. I was always surrounded by food. I didn't develop a true passion for cooking until I left home at 18 to go to college. I liked the idea of manipulating my food. When I graduated from Michigan State, my plan was to travel all around Europe, learning the languages and cultures. That's where I met my husband (Pietro Borghesi).
How would you describe your cooking style?
ST: I focus on a lot of vintage, Italian flavors. Pietro is from the Emilia-Romagna region and we lived there for five years. It really gave me the opportunity to experience everything the region has to offer. It's often called Italy's greatest gastronomic treasure and I try to bring those traditional family recipes to La Spiga.
What's something fun or quirky about you that people might not know?
ST: When I was growing up in Alaska, I raced sled dogs. I love dogs. We don't have any right now. But my son is really pushing for one.
Will we be seeing you on the Food Network again anytime soon?
ST: Possibly. It needs to be the right fit for my personality and my style. The Guy's Grocery Games aired in July and it was the sibling special I did with my sister. That was a lot of fun because it was more in line with my personality. If the right fit comes around, I'd love to do more shows like that.
You've got one person (alive or dead) to cook for. Who is it and what do you make them?
ST: My grandmother passed away when I was a teenager. She was definitely a nurturer and spoiled me with love —  and Cheetos — every time I would visit her. I would love to make her Cappelletti di Prosciutto con Fonduta di Parmigiano, my interpretation of a classic dish of Emilia-Romagna, prosciutto stuffed pasta with Parmigiano fondue and balsamic vinegar pearls. I don't think she would have had occasion to eat anything like it and I think she would really enjoy it. I could finally showcase my love for her the best way I know how, cooking for her.
I think I'd also like to cook for Prince. I always thought I would have a chance to meet him in my lifetime and cooking for him would be an honor to repay him for all of the joy that he gifted me and the world with his unique and captivating music.
You'd have to incorporate something with raspberries, right?
ST: Absolutely!