Introducing the most versatile apron collection ever! The Berkeley by Chef Works from Chef Works on Vimeo.
---
When a team of designers from Chef Works got together to have a brain-storming session three years ago, they didn't realize at the time that they were fueling the flames of a culinary-apparel revolution.
"We were just looking for ways to make chefs more comfortable in the kitchen and make things a little easier for waitstaff," said Claudia Rico, product manager for Chef Works. "We had an idea, but we didn't necessarily have a plan."
From that conversation, the concept of "the anti-apron" was hatched. And the baseline theorem for what would eventually become The Berkeley apron was established.
---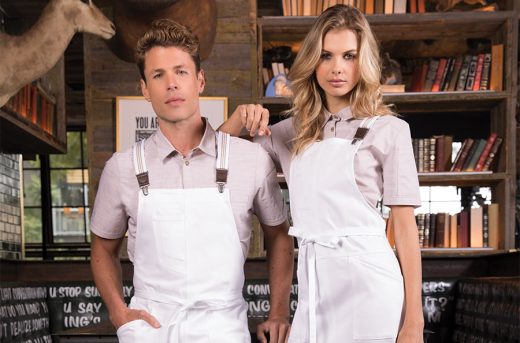 ---
Of course, bringing an industry-changing garment to market doesn't just happen through conversations. They wanted more than just a standard cross-back, suspender apron. The goal of designers was to take the strain off of the necks of chefs and servers – but to also make the apron super-efficient and fashion-forward.
Each idea branched into a dozen new ideas.  And eventually those ideas became sketches, which became designs, which became prototypes that endured thousands of hours of testing.
"I don't believe there is a better suspender apron on the market right now," said Jeanine Patz, the senior product manager for Chef Works. "Everything is top quality."
---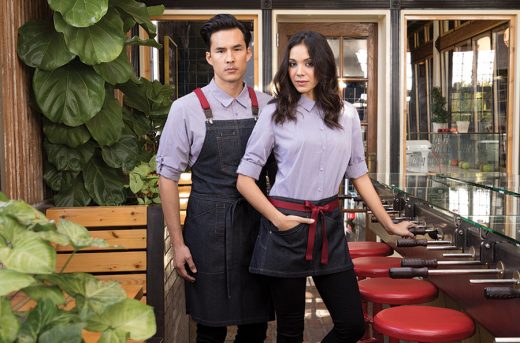 ---
Pockets, metal buckles, various denims and the interchangeable suspender straps  and waist ties all had to be meticulously researched and tested.
"We always make sure everything is the best quality," Patz said. "They had to be strong enough to survive hundreds of washes in the laundry, but also be lightweight enough so that it's comfortable."
The Berkeley is the most versatile apron in the Chef Works line – boasting up to 324 style and color combinations.  And let's face it — denim isn't going out of style anytime soon.
"When we started conceiving the Berkeley, it was right before the farm-to-table trend was coming on," Rico said. "What you're getting is an apron that looks and feels very on-trend."
---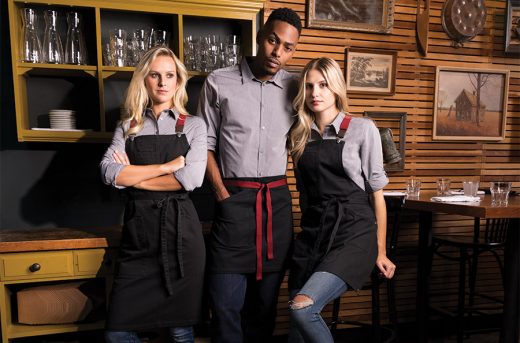 ---
The task of capturing all of those elements into a single name fell to the marketing department at Chef Works. Interestingly enough, Berkeley practically named itself.
"We wanted to convey something that was rebellious and wild – a true 'anti-apron' that wasn't afraid to break the rules of conventional culinary apparel," said Amanda Stuckey, the vice president of marketing for Chef Works.  "Naming it 'Berkeley' was such a natural fit. What you have is a garment that is remarkably functional, but is also fashion-forward and sophisticated."
Check out all five styles of the Berkeley Apron and see why it's the perfect fit!