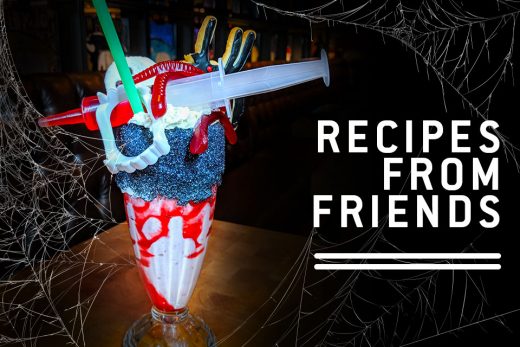 Parents are well aware that next Thursday is Halloween – a night when the kids get all hopped up on sugar on a school night only to crash hard in the subsequent days.
But not everyone is out and about on All Hallows' Eve. And not everyone is a parent. Some people just want to stay home, stick the "take one" bowl outside of their door and kick back with an adult beverage.
So we turned to Chef Rebecca Bills, friend of the Chef Works® blog and corporate executive pastry chef for Gen3 Hospitality, who was previously featured in Talk of the Town: Las Vegas, to whip us up something worth staying in for.
---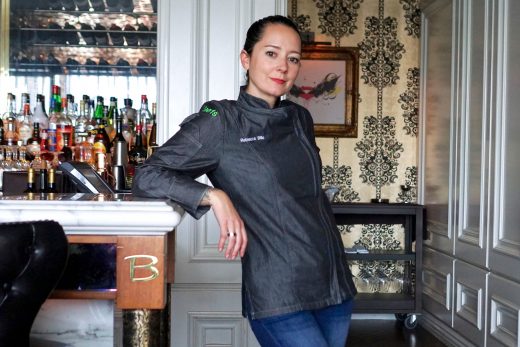 ---
Here's her recipe for Nightmare on Shake Street
3 large scoops vanilla ice cream
4 tablespoons BooBerry cereal
4 tablespoons blackberries (fresh or frozen)
1 ounce candy corn moonshine (see below)
1 ounce raspberry sauce (see below)
1 ounce whipped cream for garnish
3 gummy worms for garnish
1 vampire teeth (plastic) for garnish
1 ghost marshmallow Peep for garnish
Vanilla frosting on rim of glass (see below)
Black sanding sugar, pressed onto frosting
For moonshine
1 cup candy corn
2 cup moonshine
Mix candy corn and liquor together in a container. Infuse for three days at room temperature. Strain out candy pieces before using.
For raspberry sauce
1/2 a cup granulated sugar
1 and 1/2 cups of raspberries
Place sugar and berries in a sauce pot and simmer over medium heat for approximately 10 minutes or until juices thicken to syrupy consistency. Place in a blender and puree. Strain out the seeds and chill.
For vanilla frosting
1/4 cup of butter, unsalted and soft
2 and 1/4 cups of powdered sugar
1 teaspoon vanilla extract
2-3 tablespoons of whole milk
In a large mixing bowl, beat butter until creamy. Add the vanilla, powdered sugar and milk. Mix slowly until the sugar is incorporated. Increase the speed and whip until frosting is fluffy and stiff peaks. If this is made the same day as your shake, store the frosting at room temperature so it is a spreadable consistency when you need it for your shake.
Shake assembly
Prepare raspberry sauce, moonshine and frosting before making the milkshake.
Place the ice cream, cereal, berries and moonshine in a blender and blend until smooth. It is helpful to let the ice cream melt slightly before blending. Spread about a 2" band of vanilla frosting on the outside rim of a shake glass and press the black sanding sugar onto the frosting. Swirl the raspberry sauce inside so it drips down the glass. Fill the glass with the blended shake. Garnish with whipped cream, candies and plastic vampire teeth.
If you'd like to submit a featured recipe to the Chef Works® blog, email kgemmell@chefworks.com