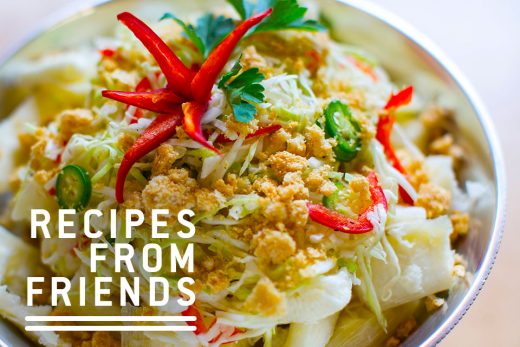 Looking for something a little different this holiday season when it comes to your side dishes?  Of course, there's nothing wrong with the tried-and-true classics. But too often December feasts can feel like Thanksgiving 2.0.
For something different, daring and bold, we turned to friend of Chef Works, Chef Amalia Moreno-Damgaard. The best-selling author, chef and food consultant specializes in Latin flavors that are teeming with flavor.
Enjoy this recipe from her book: "Amalia's Guatemalan Kitchen"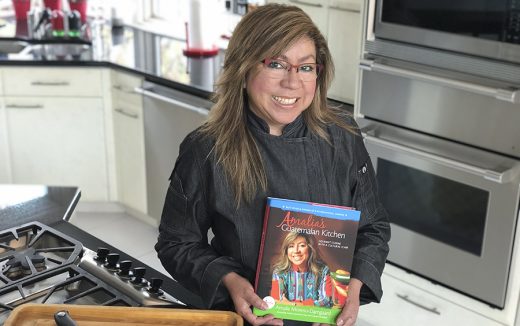 Yuca with Spicy Lime Cabbage Slaw
This super easy and delicious dish is perfect for any occasion as a festive side dish, starter or snack. The recipe was inspired by the street vendors of the east-central region of Guatemala, where buses full of passengers travel from the capital on the Atlantic highway, passing by many food shacks along the way. When the buses stop for fuel, eager street vendors rush toward them with large flat baskets full of cooked treats. Sometimes they even board the buses, filling the air with delicious aromas.
Curtido, the special traditional garnish, can be a topping, a salad, or a side dish by itself too. Raw or cooked curtidos (pickled slaws with lime or vinegar or both) can [be] used to top a variety of other dishes such as pupusas, tostadas, hot dogs, crispy rolled tacos, and other foods. They can also serve as bases for other dishes. Spicy curtido complements grilled or fried foods nicely because of its mild acidity and great flavor.
There are other versions of this dish in the Central American region with some ingredient variations and all are equally delicious. In Nicaragua it is called Vigorón.
SERVES 2-4
6 cups water
1 teaspoon kosher salt
1 1/2 pounds frozen yuca, or peeled fresh yuca cut into 1-inch slices
1 batch Curtido Crudo (spicy lime cabbage slaw) or 1 batch Curtido con Rábanos (spicy radish-cabbage slaw) –both recipes below
1/2 cup crushed fresh crispy pork rind
In a medium saucepan, bring the water to a quick boil and add the salt. Add the yuca and cook it until it's soft, but not mushy (about 15 minutes).
Drain the yuca in a colander in the sink. Let the yuca cool slightly. Take out the inner core and discard it. With a fork, break the yuca pieces into small chunks, but do not mash them.
Serve the yuca topped with the slaw and pork rind.
Curtido Crudo (spicy lime cabbage slaw): In a bowl, thoroughly mix 3 cups shredded cabbage; 3 tablespoons freshly squeezed lime juice; 1/2 cup julienned carrots or red bell pepper; 1 thinly sliced Serrano, jalapeño, or other hot pepper of choice; and 3/4 teaspoon kosher salt. Taste and adjust seasonings, if needed.
Curtido con Rábanos (spicy radish-cabbage slaw): Follow the Curtido Crudo recipe, but substitute 1/2 cup chopped radishes for the carrots or red bell pepper and add 1 tablespoon chopped cilantro.
Amalia's Notes
Frozen yuca is a time saver available at Latino markets throughout the United States. It is also available fresh at some grocery stores. It takes a bit of time and effort to cut and peel the fresh yuca, but this can save you some money and give you a different experience. Use a peeler and peel it as you would potatoes.
Chicharrón, or fresh crispy pork rind, is available at Latino markets by the meat section.