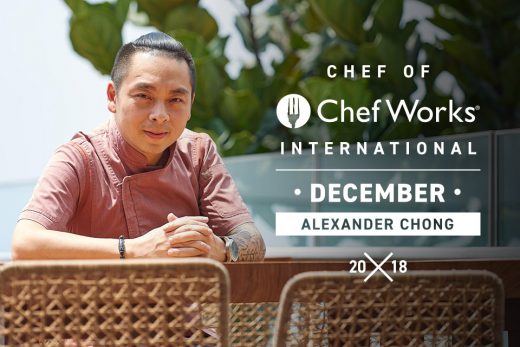 ---
Each month we feature an International Chef of Chef Works. If you're a fan of Chef Works gear and are interested in being featured, email marketing@chefworks.com. Pictured above is our December International CoCW, Chef Alexander Chong, photographed in his Springfield Chef Coat.
---
Chef Alexander Chong has finally made his way home.
Born and educated in Malaysia, Chong pursued cooking jobs that brought him to kitchens all across the South Pacific. From Singapore, Vietnam and Indonesia to the Philippines and mainland China, Chong has absorbed the culture, techniques and flavor profiles of each nation.
Now, he's pouring that into his position as executive chef at the New World Petaling Jaya Hotel in Malaysia.
"Malaysia comprises different races of people so I wanted to showcase the best of our local cuisine here," Chong told "The Star Online" earlier this year.
Chong has held numerous executive chef titles – including his time at the Heritage Hotel in Malaysia (2003-2005), Melia Hotels International Kuala Lumpur (2008-2009), Solaire Resort and Casino in the Philippines (2013-2014) and New World Hotels & Resorts in Dalian, China.
Passionate and energetic, he likes to strike a balance between work and play in his kitchen.
"I always try to make my team members 'rock n' roll' with me during operations," he said. "There is no such thing as a one-man show in any organization."
The recipient of numerous awards – including a finalist in the Young Malaysian Awards in 2011 – Chong has also done his part to give back to the world through his craft.
An honorary life member of the World Association of Master Chefs, Chong has participated in numerous charitable endeavors. For example, in 2009 he helped organize an auction charity dinner that raised more than 5-million Yuan (approximately $725,000 U.S.) to aid Haiti.
And while he's touched many across the world, he's always embraced his culinary roots. He considers his style "progressive Asian cuisine" and is in the process of writing cookbook that will likely draw on his experiences in the various countries where he's cooked.
At the end of a long shift, he loves nothing more than sipping a latte and watching movies. And, naturally, cooking for friends and family is always at the top his list!