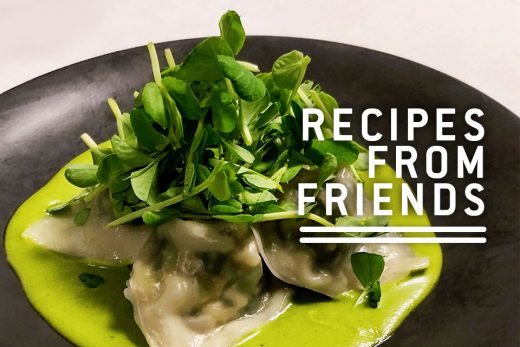 Love takes many turns. Take, for example, the story of Nick and Nikki – who met in Florida, got engaged in Singapore, were married in Taiwan and are now living in Palm Springs, Calif.
Chef Nick Tall, executive chef of the Colony Palms Hotel and Purple Palm restaurant, was kind enough to share his cross-continental love story with the Chef Works blog, along with a recipe you might want to consider cooking up for your significant other. His experience is extensive, having been a sous chef at Amber (two Michelin stars) in Hong Kong.
So, courtesy of Chef Tall, consider these dumplings for that special someone in your life.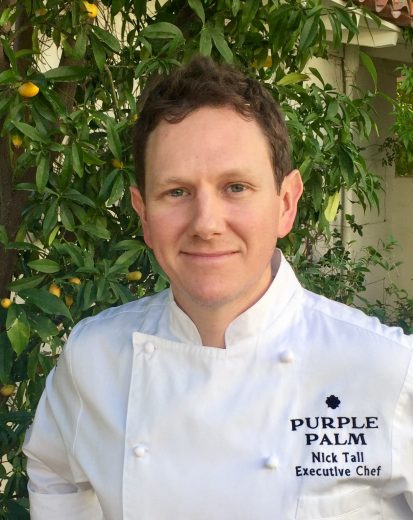 SCALLOP & GARLIC CHIVE DUMPLINGS
W/ginger herb emulsion and baby pea shoots
Serves: Makes approximately 40 dumplings
Chef's note: Put approximately 1 tablespoon of filling in each dumpling and use egg white to seal the edges. Gently boil dumplings for 5 minutes and lay dumplings on the sauce and top off with the baby pea shoots.
SCALLOP & GARLIC CHIVE DUMPLING FILLING
1 pound garlic chives (trimmed, cut ½")
1 oz. ginger (finely chopped)
1 pound scallops (rough dice)
2 tbls sherry wine
2 tbls shoyu
4 tsp cornstarch
2 tsp extra virgin olive oil
1 tsp salt
1 tsp pepper
1 tsp sugar
Quickly sauté garlic chives and ginger over high heat in a pan with a little oil. Season to taste with salt and pepper. Move to a bowl large enough to fit all ingredients. Place bowl on ice, stirring occasionally to chill rapidly.
Combine scallops, sherry wine, shoyu, cornstarch, olive oil, salt, pepper and sugar in a bowl and mix very well until cornstarch is completely dissolved.
Place scallop mixture in the food processor and pulse several times until well chopped, but do not puree. Combine with the chilled garlic chives in the bowl over ice. Mix well.
Keep mixture cold until ready to make the dumplings.
Ginger Herb Emulsion
4 oz. ginger (peeled, rough chop)
1 oz. garlic (rough slice)
2 oz. Jalapeno (deseeded)
3 oz. scallions (trimmed, rough slice)
1 oz. cilantro leaves & stems (trim ½", rough slice)
1 oz. pea shoots
½ oz. mint leaves
½ cup shoyu
¼ cup rice vinegar
½ cup blended oil
1 tbls extra virgin olive oil
Combine ginger, garlic, jalapeno, scallions, cilantro, pea shoots, mint, shoyu and rice vinegar in the blender. Puree until smooth.
Combine oils and emulsify with the puree with blender running on medium.