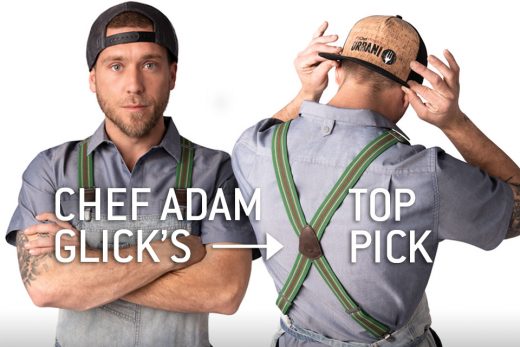 Nostalgia can be a powerful emotion. And it can strike in the least likely of places.
Take reality TV chef Adam Glick, who returns to BravoTV for Season 3 of Below Deck Mediterranean next month, and his moment of nostalgia. Glick recently toured the headquarters of Chef Works in San Diego. And when he saw the Berkeley Apron, his heart went all gushy.
"It's identical to the apron my grandfather would wear," Glick said. "He mills his own engines by hand. He's 90 years old and he does it in his garage. He's worn that apron every day for probably 50 years. He wears it to breakfast when he's eating his cereal."
Doing his best to mimic his grandfather, Rudy, Glick put on the Berkeley Apron for an impromptu photo shoot. He's also pictured (above) in a Jaxon Shirt and and Cork Front Skater Hat from Chef Works.
There are a lot of reasons Glick, and thousands of others, love the Berkeley Apron. Not only is it a Chef Works' best seller, it's one of the most versatile and reliable aprons on the market.
Some of the Berkeley perks include:
Fully customizable suspenders
More than 320 color combinations
Cross-back suspenders that take the weight off of the neck
Exclusive designs for women and men
100 percent cotton and reinforced stress points
Snap-on waist tie
The Berkeley Apron is available in a chef's bib cut, bib, petite bib, half bistro and waist.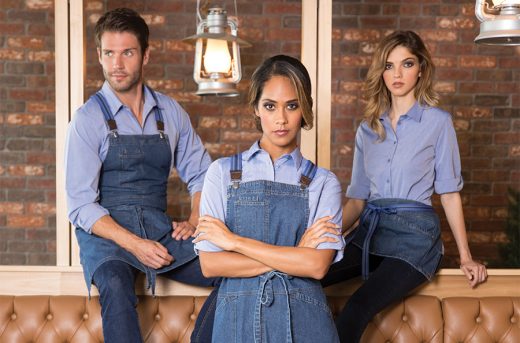 "The Berkeley Apron is one of our most popular items for a reason," said Amanda Stuckey, vice president of marketing for Chef Works. "It is one of the most comfortable cross-back designs because the suspenders move with the body, which keeps it from bunching and creeping up."
Explore the hundreds of Berkeley options and find the right one for you. Chef Glick did!