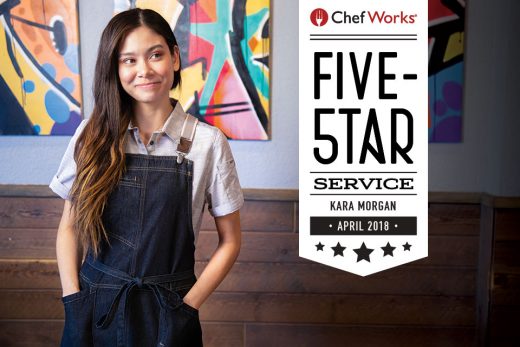 Chef Works will be spotlighting someone in waitstaff each month through November as part of our "Five-Star Service" blog feature. In December, we'll ask our blog's readership to vote who has the "best story." We'll dress the winning restaurant with Chef Works gear!
Kara Perez started last week as – well – Kara Perez. But she starts this week as Kara Morgan. Perez … er … Morgan … got married last Friday. That in itself isn't particularly out of the ordinary. People do it all of the time.
But it's how she took the plunge – literally – that will make an amazing story well beyond her 50th anniversary.
"We're signing all of the papers in an airplane and then we're skydiving out together," said Morgan, 24. "It's a skydiving wedding.  People say marriage is a leap of faith. So we're taking that leap together."
Morgan and her husband, Henry, both work at Eating House in Coral Gables, Fla. Henry is a sous chef and Kara works as a bartender and server. It was a workplace romance that actually started at another restaurant and moved with them to Eating House.
"I knew I'd stick with someone in the biz," Kara Morgan said. "I've been in this business for about eight years and food and restaurant life is my passion. So this relationship makes sense."
Her work also makes sense. Growing up, Kara wasn't particularly outgoing. As she puts it, "It took people a while to warm up to me because I was a little rough around the edges." But when she's behind the bar and conversing with customers, that's when she feels most natural.
"She's so good because she is authentic," said Giorgia Rapicavoli, owner and executive chef at Eating House.
And it's that authenticity that has allowed Morgan to grow into her role.
"You're a little bit of everything," she explained. "You're everyone's psychologist. You're a photographer. You're a consultant. You're the get-away person for a little bit of time. You want them to have a good experience with you.
"I think this industry opened me up to be a people person. I used to see myself as a little anti-social. Being in the industry opened me up to speaking better. My grammar was better. I'm bilingual and even my Spanish got a lot better. Working in this industry has helped me grow into a whole new person."
It's unlikely you'll find Kara Morgan on the move anytime soon. She's fiercely loyal to Miami, where she was born and raised.  And while she's happy to serve up a wide range of cocktails, she's also extremely proud of Miami's burgeoning craft beer scene.
"I can make you a cocktail. But if you really want a taste of Miami, I'm going to give you a beer," Kara Morgan said. "Down here in Miami, in the MIA, we love our craft beers and it's becoming a huge thing. I'd give you a nice, light, refreshing – but still with a good alcohol percentage – IPA. No doubt about it, that's the route you should take."
Kara and Henry Morgan have their feet on the ground for now. But they'll be back in flight next week when they take their honeymoon to Italy. When they return, their Jack Russell – Kratos – will be waiting. So will Eating House.
"We both love it there," she said. "It's our family."