Upper West Side mainstay Michelin man Bill Telepan is known as the de facto culinary patriarch in the City that Never Sleeps, a pioneer in adapting farm-to-table cooking to his former upscale establishment, Telepan. With his simple and balanced approach to cooking, Chef Telepan earned a glowing two-star review from The New York Times, was a repeat semifinalist for the James Beard Award as Best Chef: New York City, and was the recipient of the Snailblazer Award in 2013 by Slow Food NYC.
These days, Chef Telepan can be found running the line at Time Square seafood mecca, Oceana, and is the executive chef of Wellness in Schools, developing nutritious school menus, training cafeteria staff, and educating students, parents, and teachers on healthy eating habits.
We sat down with this chef of all trades to discuss how he's transforming school lunchtime, what visitors can expect from the upcoming Taste of Tennis event, and what his perfect day eating in NYC looks like, if only he had a day off.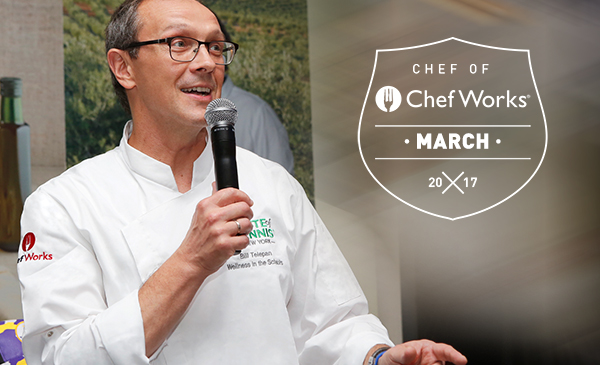 Q&A
1 You're the featured chef for the upcoming Taste of Tennis event this month in Miami – what can partygoers expect? Any hints as to what you'll be serving?
I think partygoers can expect a great energy of chefs meeting tennis stars and vice versa. And of course, there's a lot of great food and drink. Taste of Tennis is always one of the best events I participate in all year.
2. As one of the earliest pioneers of farm-to-table cooking, how do you see the movement evolving in the next three to five years?
This movement has always gone on. But I just formed a little partnership with a farm to grow specific vegetables for me, I think that is the way it's headed. And chefs are starting their own farms.
3. Favorite piece of advice to share with aspiring chefs?
Put your head down, work hard, listen and learn. And enjoy the ride. We are in the most fun business!
4. You've been the Executive Chef of Wellness in the Schools for nearly a decade. Can you share a few defining moments in your tenure thus far, and what you hope to achieve with Wellness in the Schools moving forward?
There have been a couple of defining moments. I was asked by the White House to help develop the Chefs Move to School initiative and launched it on the White House lawn with Michelle Obama. And another was seeing grammar school students in a cooking class we teach, all raise their hand when asked the importance of olive oil in their diet. That time I really saw our work reach kids.
5. Describe a perfect day eating in your favorite NYC neighborhood.
Ha! There is a great old NYC institution, Barney Greengrass, I would start there with a pastrami and egg sandwich and some lox. Then I could go to Motorino or Celeste for pizza or ramen at Jin Ramen for lunch. Then dinner at home cooking for my wife and daughter with some of my daughter's famous blondies for dessert!
Follow along on Chef Telepan's culinary adventures:
FACEBOOK: @Bill.Telepan
INSTAGRAM: @billtelepan
TWITTER: @billtelepan