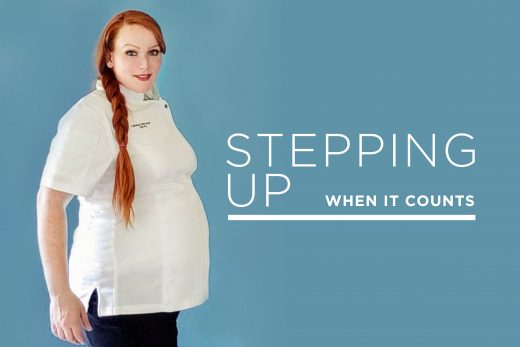 Frumpy, oversized, depressing and unflattering are just a few of the words Chef Katherine Forsyth used to describe her chef coat the first time she was pregnant four years ago.
She was determined that things would be different the second time around.
Now pregnant with baby No. 2, Forsyth reached out to Chef Works® because she was also in the heat of competition at the National Association of College & University Food Services Culinary Challenge. Representing Pacific Lutheran University in Tacoma, Wash., Forsyth had won the Pacific Regional and advanced to the Nationals – which were held last week in Denver.
"I spent my first pregnancy floundering around in a horribly-fitted, oversized coat looking like a fat Fievel," Forsyth said. "Those terrible flashbacks ran through my head as I imagined myself in the national competition looking like a slob in front of the Master Chef and live audience — ladles getting caught on my sleeves, my extra material bunching up over my apron. Then I realized that we are still ladies and professionals and deserve to be treated as such."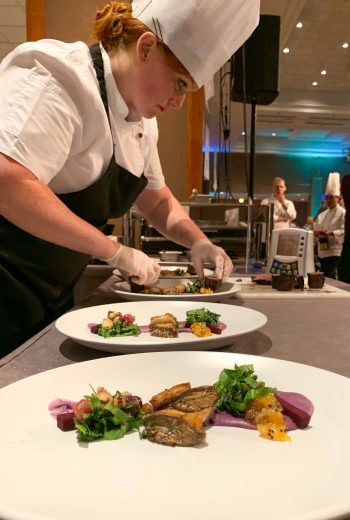 She reached out to 10 different culinary apparel companies. Only Chef Works® answered the call. The Chef Works® team sprang into action, creating her a special Springfield Women's Chef Coat, Hartford Women's Chef Coat and Marrakesh Women's Chef Coat.
Forsyth went on to place second at the national event – wowing the judges with her cast iron koji tenderloin, purple yam puree, pan roasted mushroom, black garlic backstrap, apricot mostarda, smoky kombucha beet, pickled quail egg, maple black walnut radish with wilted sorrel and apple Hendrick's cube.
That's a lot of cooking. And Forsyth was radiant in her Chef Works® gear.
"It was wonderful," she said. "I didn't look like I was 7.5-months pregnant. I didn't stand out and look weird. I looked professional and clean. People were really impressed with the jacket. Pregnancy makes your stomach swell, not your underarms and shoulders. Going up in sizes is unflattering and depressing. There is a huge difference in a fitted-maternity coat versus an oversized burlap sack."
---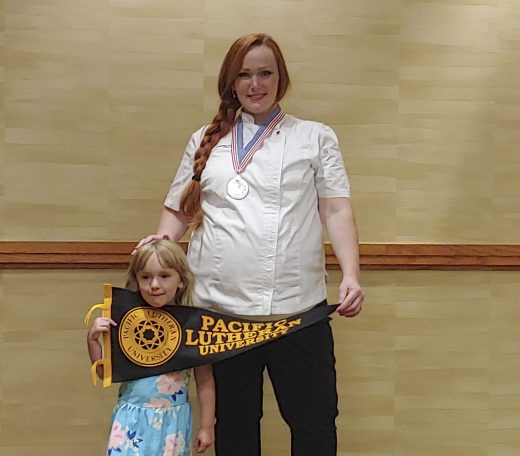 ---
Forsyth, who is expecting another girl, is already the mother of a 4-year-old daughter. Originally from the East Coast, she moved west and into educational culinary for a better work-life balance.
"Pregnancy in the kitchen is a taboo subject," she said. "Not only is family leave non-existent in some kitchens, but you are frowned upon as being too delicate for the line in such a 'condition.'"
She's thankful to Chef Works® for taking her request seriously and hopes to jumpstart the debate around pregnancy in the culinary workforce.
"By the time maternity lines [of chef coats] have caught on and gained recognition, I will be done growing my family," she said. "The reason I'm doing this is for the huge wave of female chefs behind me."