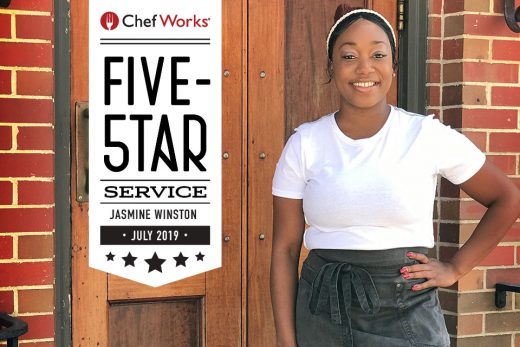 ---
Chef Works® will be spotlighting someone in the front of the house each month through November as part of our "Five-Star Service" blog feature. In December, we'll vote who has the "best story" and dress the winning restaurant with Chef Works® gear! Pictured above is Jasmine Winston, photographed in Columbus, Ga., in her Dorset Half Bistro Apron. To nominate a server, bartender or brand ambassador, email kgemmell@chefworks.com.
---
In her 10 years working the restaurant scene in Columbus, Ga., Jasmine Winston has gotten a lot of compliments as a server, bartender and manager.
But there's one in particular that tugs at her heartstrings every time. And she's always blown away when she hears it.
"People tell me I look like my mom," said Winston, 29.
While that in itself isn't particularly extraordinary — children often look like their parents – it's significant for Winston.
She was just six-months old when her mother, an officer with the Columbus Police Department, was killed in the line of duty on New Year's Eve 1990. Shirley Denise Winston was 26.
"It's been 29 years since she passed," explained Winston, "and for people to still come into our restaurants and recognize her on my face, I think that's pretty cool.
"Her loss really impacted the community. They all came together for our family. I feel like I was raised by this community. I have a lot of regular customers who knew my mom and they tell me stories. She's alive through the stories they tell."
And she hears them a lot. Winston has been with the same restaurant group for the last decade, helping them open three different locations. A typical day could be working the lunch shift at The Loft before jumping in as manager at Mabella's Italian Steakhouse and then closing out the night as a bartender at Saltcellar. She sees a lot familiar faces – and many of them have stories about her mother.
"I had a customer come in over the holidays who recognized me and said his brother was my mom's first partner," she explained. "I'm always so blown away by the impact she had on so many people."
Despite growing up without a mother, Winston says she had the support of grandparents, her father — who was also a police officer and retired as a detective — and the community as a whole. She was a cheerleader, dancer and gymnast.
She considered a career in healthcare – even getting an Associate's Degree in Healthcare Administration.
"I realized I was just happier working in restaurants," she said.
And the owners are happy she's there too. She's helped the group open all three restaurants and she continues to be a multi-dimensional brand ambassador who is loved by customers and co-workers.
"Jasmine sets the standard for servers in Columbus," said Tom Jones, co-owner of all three restaurants. "We are grateful for her loyalty to our restaurants and the service she gives to our customers. She is a true joy to work with, and there is a reason our guests love her."
Winston's philosophy for working the front of the house is pretty simple: "The most important thing is to always treat people the way you want to be treated. I've seen management, waitstaff and customers come and go. The thing that always brings people back is the way you treat them. Hospitality is all about an atmosphere. Make them feel welcomed like they are home."
It's that last part that Winston really tries to emphasize. Sitting on the Alabama-Georgia border, Columbus is a major hub for military families at Fort Benning. Many military families come and go, and Winston learns their faces, meets their families and hugs their children.
"Those families will come back three or four years later and I'll remember them and they'll remember me," she explained. "There is definitely a family and community feel. Being welcoming and remembering those faces is what hospitality is all about."
Winston hopes that in the next 10 years, she can take all of the knowledge she's gathered and eventually open up her own restaurant. She sees herself staying in Columbus. After all, it's the community that raised her.
"This is a special place," she said. "Each time I hear another story about my mom, it reminds me how wonderful this community is."
---
*Shirley Winston's photo is used with permission from the Officer Down Memorial Page.
---
Want to read more Five-Star Service stories?