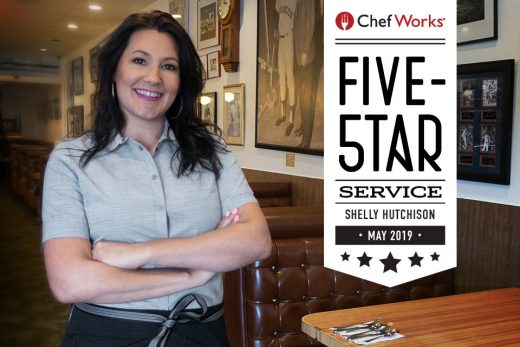 ---
Chef Works will be spotlighting someone in the front of the house each month through November as part of our "Five-Star Service" blog feature. In December, we'll ask our blog's readership to vote who has the "best story." We'll dress the winning restaurant with Chef Works gear! Pictured above is Shelly Hutchison, photographed by Chef Works at Harry's Coffee Shop in La Jolla, Calif. in her Havana Shirt and Berkeley Waist Apron. To nominate a server, bartender or brand ambassador, email kgemmell@chefworks.com.
---
Three blocks from the Pacific Ocean, tucked away between the high-end shops and posh eateries of La Jolla Calif., sits a little coffee shop that's frozen in time. It's a place where you can saddle up to the bar and chitchat with the servers while getting a good cup of coffee to go with your eggs, bacon and hash browns.
With dozens of Norman Rockwell paintings decorating its walls, Harry's Coffee Shop is a slice of old-school Americana.
Shelly Hutchison, too, is an old-school server. Her East Coast sass, smoothed over by 15 years living in San Diego, has helped make her a favorite among regulars and locals.
"Growing up in Pittsburgh, I think we're a little more blunt when we speak," said Hutchison, 37. "I think people on the West Coast are a lot more laid back. I've mellowed living out here, but I definitely have kept some of that blunt talk. I say it like it is. I think the customers like that."
This isn't the life Hutchison envisioned when she graduated from the University of Pittsburgh with a degree in dental assisting in 2000. But it's the life she's been living for the last 13 years at Harry's. And as far as she's concerned, it's her best life.
"I get the satisfaction of people appreciating me and me appreciating them," Hutchison said. "They are always as happy to see me as I am to see them."
Hutchison grew up in the hospitality industry. As a teenager in Pittsburgh, she worked as a server while doubling-up in a dental office sterilizing equipment. At the time, she figured she had to go to college and get a degree. Because that's simply what people did.
"I was actually developing X-rays in a dark room when I first started," she said. "But in the last 20 years, everything has changed. I couldn't go back to dental assisting even if I wanted to. The technology is so different now."
Fortunately, the food industry and the customer service that drives it hasn't changed a bit. Sure, Harry's replaced its spiral ticketing system (only a couple of years ago) with a computer-based ordering system. But Hutchison still drops off food, still pours coffee and still hugs the same kids and regulars year after year. Much like Harry's itself, Hutchison is frozen in time as the world around her changes.
"The people are what makes this place special," she said. "People come here for vacation and one or two years later they'll come back and I'll remember them and they'll remember me. We have neighborhood people who share stories of coming here with their parents or grandparents. We have kids who have grown up and actually are bringing their kids here. It's amazing. I've seen toddlers who are driving now."
When she first got out of college, she started to apply for dental assisting positions. But there wasn't the immediacy of a paycheck to offset her bills. Serving was always her best option. And she was good at it.
She still is.
"When you're here, I want you to feel like family," she said. "I want you to feel like you're home. When you work with the same people and see the same customers year after year, it's impossible for it not to feel like a family.
"I love coming to work every day. I love seeing the faces of people enjoying their food and the hugs from the kids who get bigger and bigger. People remember the little details. I like to think that no matter how much things change, I'm going to be one of those details people always remember."
---
To nominate someone from the front of the house, email kgemmell@chefworks.com