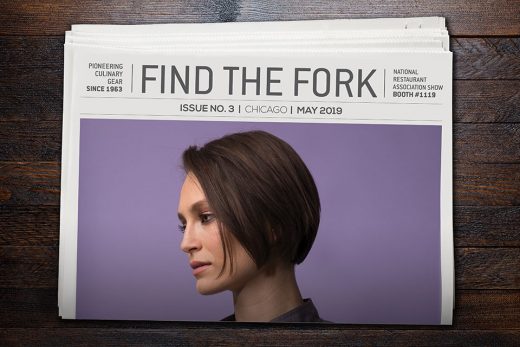 Chef Works, the global leader in culinary and hospitality apparel, is thrilled to be back at the National Restaurant Association Show and congratulates NRA on 100 years.
This marks the 24th consecutive year that Chef Works is attending NRA. During that time, our executive team has remained steadfast in its commitment to providing the highest quality apparel and customer service to the industry.
"We've never been the kind of company that just throws darts to see what sticks," said Neil Gross, CEO of Chef Works. "Whether we're releasing new products or looking to improve on existing ones, we're always in consultation with chefs and restaurateurs in the field so we can hear directly from them what does and doesn't work. The customer has always been at the center of everything we do. That is what has helped us sustain success and become the most trusted name in the industry."
It's also one of the major reasons that Cintas Corporation sought out Chef Works for a strategic partnership. Chef Works is honored to be featured in the Cintas 2019 Design Collective™ along with other trusted retail brands such as Levis®, Under Armour®, Carhartt and Cherokee®.
"The best companies aren't constantly reinventing themselves, they stick to their roots, build off of that and then continually press to make it better," said Amanda Stuckey, vice president of marketing for Chef Works. "Sustaining success by being true to who we are is at the very core of Chef Works."
Speaking of sustainability, in the last year Chef Works has ramped up its commitment to sustainability, eliminating food waste and reducing its carbon footprint. Through its charitable foundation – Chef Works Cares – Chef Works hosted WASTED: A Celebration of Sustainable Food last fall. Dozens of chefs from across the country converged on San Diego for a sustainable food cooking competition. Elizabeth Falkner emceed the event, which raised more than $50,000 for charity, while advancing the national discussion around food waste.
"We already have a successful recycling and sustainability program around our apparel, and WASTED was an obvious vehicle for Chef Works to help take the lead in the food waste discussion," Stuckey said. "We wanted to give some of the best chefs in the country a voice and a forum to show what's capable in helping reduce food waste."
Along those lines, Chef Works will be hosting two discussion panels at NRA — and all in attendance are invited to stop by!
Panel 1: Women's Roles in Culinary and Hospitality Industry: Putting Our Best Foot Forward
Location: McCormick Center
Date: Saturday, May 18th
Time: 12-1 pm
Booth: Chef Works Booth #1119 | South Hall
Panel 2: Sustainability in the Culinary and Hospitality Industry: Is It Really Possible? #YESITIS
Location: McCormick Center
Date: Sunday, May 19th
Time: 12-1 pm
Booth: Chef Works Booth #1119 | South Hall
Big things are on the horizon for Chef Works in 2019. We can't launch into too many details yet (hint, hint). But we're pretty excited about what's next, and we think you will be too!
We can't wait to see you at Booth 1119 and look forward to helping you bring fashion and function into your life!