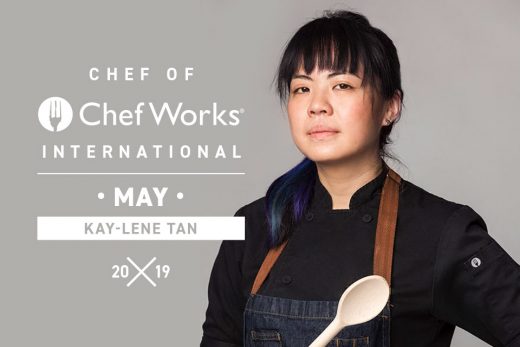 ---
Each month we feature an International Chef of Chef Works. If you're a fan of Chef Works gear and are interested in being featured, email kgemmell@chefworks.com. Pictured above is our May International CoCW, Chef Kay-Lene Tan, photographed in her Women's Marbella Chef Coat and Memphis Bib Apron.
---
Most people wait until they are in their 40s or 50s before having an existential crisis. But Kay-Lene Tan realized in her 20s that she wouldn't have to wait that long.
"I started to realize I was experiencing a quarter-life crisis," she said.
Tan, 34, is the head pastry chef at Tonka and Coda restaurants in Melbourne, Australia. And she's there because she followed her heart when her "crisis" struck.
She was previously working in documentary production, but questioning whether it was the right career arc for her. While watching Top Chef, she had that lightbulb-above-the-head moment. Food was a huge part of her childhood growing up and she decided to act on her instincts and pursue a career in culinary.
"My earliest food memory is rolling glutinous rice dumplings with my mother and grandmother in the kitchen," said Tan, who was born in Melbourne but lived most of her life in Singapore. "I'll always remember my grandmother telling me my dumplings weren't round enough and my mom chuckling in the background. It's a very special memory for me."
She studied at the At-Sunrice GlobalChef Academy in Singapore, putting the first quarter of her life in the rearview mirror and eager to start Quarter No. 2.
That decision not only changed her life, but it's also helped take her all over the world. Already a travel nut, Tan was awarded the Hostplus Hospitality Scholarship in Australia, allowing her to travel globally and study at various restaurants. She recently made trips to Slovenia to learn with Chef Ana Ros of Hiša Franko and to San Francisco where she worked at Atelier Crenn with Dominique Crenn.
"Those were once-in-a-lifetime experiences," Tan said. "It was so surreal to meet them in person. Everyone was so passionate about food. I've made some wonderful friends in my travels and I'm sure I haven't seen the last of them."
Tan spends her days and nights surrounded by sweets. So it's no surprise that when it's time to cook for herself, she's looking to go with savory flavors.
"It would have to be any kind of potato dish," she said. "I love potatoes and my favorite way to make them is the way my mom made them for me – sliced thin and layered with cheese and butter and then baked.
"For dessert, I love making pies. I make cherry pie every year I've been at Tonka for Christmas because it's cherry season … My dream is to maybe even open a pie shop one day."
But that's still a while off. For now, she's enjoying her life post-crisis and relishing the little things.
"I work in an open kitchen and sometimes I have the pleasure of watching someone take that first bite out of my dessert," she said. "And the smile they have on their face – the nod of delight – it warms my heart because I know I've made them happy through my creations."