On the final day of National Military Month, Chef Works — which employs several military veterans and their spouses – would like to thank all men and women of the armed forces for their service.
The culinary and hospitality industries are two of the largest employers of service members. We're humbled to see these brave men and women in our uniforms when they're not wearing their other ones.
One particular event we'd like to spotlight is the Blue Star Neighbors Celebration, which was held earlier this month at the U.S. Chamber of Commerce in Washington D.C. The awards dinner brings some of the nation's elite chefs together to cook with military chefs for an amazing cause, while exemplifying Blue Star Families' mission to help bridge the gap between military families and civilian communities.
---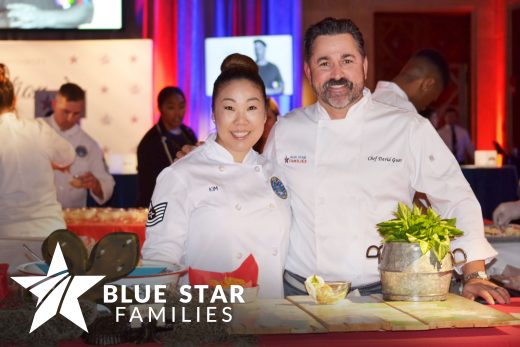 ---
​For Chef David Guas, executive chef and owner of Bayou Bakery Coffee Bar & Eatery in Arlington, Va., each year cooking for Blue Star brings more reward.
"Blue Star Families is one of the most satisfying events I participate in every year," said Guas, who just completed his fifth year cooking at the annual celebration. "Contributing my time is a small token of appreciation for all that our military does to protect our freedom. From start to finish, being involved in this event makes me feel very proud — from teaming up with a military chef in the weeks leading up to it, to standing amongst the highly decorated military officials at the celebration."
This was the first year for Chef Harley Peet, executive chef at Bas Rouge in Easton, Md.
"The most special part of the dinner for me is to witness not only the men and women in uniform, but also the families that support them," Peet said. "Behind every strong military leader is an even stronger family. Blue Star Families builds a community around them to assist in the challenges."
Blue Star Families was founded in 2009 by military spouses. The goal was to connect military families with civilian neighbors to foster empowerment and a strong support network. Today there are more than 30 chapters across the country and 1.5 million military family members have been reached.
---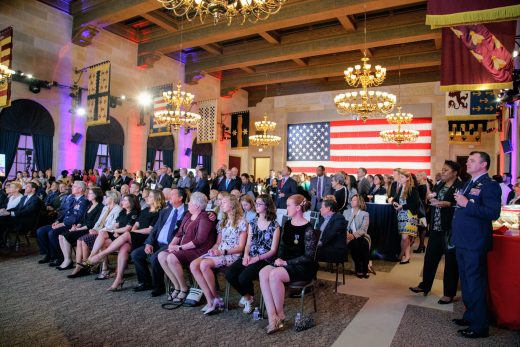 ---
"This event stands out because of the collaboration with military chefs," Peet said. "It's a fun and rewarding experience to be able to get to know the culinary path and day-to-day duties both in the military and the kitchen. It's great exposure to another world that is similar, yet so different, than my own."
The intimate setting – which honored not only military families, but the military supporters across the country who positively impact those families – usually draws out a great deal of emotion from those in attendance.
"The most special moment of the celebration is when they announce the Blue Star Neighbor award recipient to a civilian that has gone above and beyond supporting a military neighbor," Guas said. "The tears just start falling — it is always a tear-jerker for me. I met the recipient this year, as well as the Army family she has been helping. It was amazing to connect and hear more from them and learn about their story of resilience despite the struggles of being in the military."