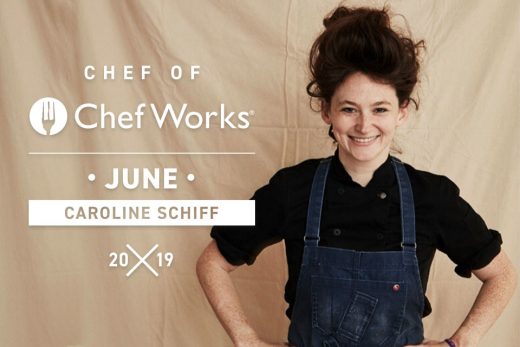 ---
Each month we feature a Chef of Chef Works. If you're a fan of Chef Works gear and are interested in being featured, email kgemmell@chefworks.com. Pictured above is our June Chef of Chef Works, Caroline Schiff, photographed by Alan Cresto in her Galveston Cross-Back Bib Apron.  
---
This month's Chef of Chef Works is one of the most respected and well-established pastry chefs in New York. You've probably seen Caroline Schiff going toe-to-toe with Bobby Flay on the Food Network (twice). And chances are you've seen her running the streets of New York prepping for her next marathon.
The hair is a dead giveaway.
The 33-year-old native New Yorker took some time to chat with the Chef Works blog about her adventurous culinary upbringing, starting her own business and why her crazy-fun hair is a reflection of her personality.
You took an untraditional route to the kitchen. Tell us how you got started.
Caroline Schiff: Everybody who knows me well will tell you that first and foremost the thing I loved the most was being in the kitchen. I loved baking. I had an out-of-control sweet tooth. I still kind of do. Cake was my first love. It was my favorite activity. I was always making messes in the kitchen and always wanting to bake for friends and family. It's really no surprise I became a pastry chef.
But I didn't actually go to culinary school. I attended the University of St Andrews in Scotland and got a degree in French language. I knew I wanted to do something creative. I knew I wanted to work with my hands and food. But I wasn't exactly sure which direction. I lived for a year in France and traveled across Europe and really immersed myself in different cultures.
Post-college, I got my first internship and then a line cooking job at the Good Fork in Brooklyn and was bitten by the bug. I returned to New York because that's where all of my roots are.
Tell us about your company, ParadigmSchiff. How did that all come together?
CS: I was executive pastry chef at a few places for about 10 years. I worked at Mas in the West Village, Maysville and Scoops & Sweets/Greene Grape Provisions in Brooklyn. I think after about a decade I was ready for a new challenge. The industry poses a lot of limitations in terms of flexibility of schedule. Financially, you tend to hit a wall. Restaurant finances are tough. They are tight. About a year ago I felt like I was ready for a change. I'd spent all of this time building a reputation and a network. I was already doing consulting on the side so I figured it was time to strike while the iron was hot. It was a great time to breakout and make this my fulltime job.
I've held off as long as possible. Can we please talk about the hair!
CS: (Laughing) Well, I've had it my whole life. There is no real secret to it. I really did wake up like this. It's sort of what I've become known for because it's pretty noticeable. It's a big part of who I am. I express myself through my food. My hair is also going to be part of that self-expression. It's bold. It's fun. It's organic and a bit unruly.
I think I'm kind of an out-there person. When I think of desserts, I think of whimsical. They are what we use to reward ourselves, to celebrate and mark events like anniversaries and birthdays. There is something special about desserts and I think that comes through in my food. My hair is also pretty whimsical. There's a connection.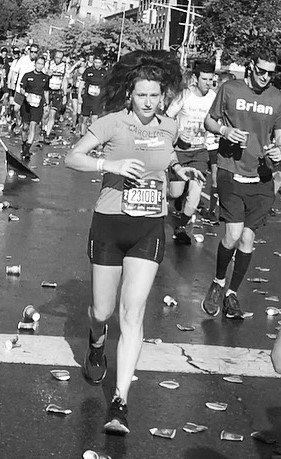 You're an avid runner. How did that get started?
CS: It came a bit later in life. Working in restaurants is emotionally very difficult. You work long hours, nights, weekends and you miss out on a lot of stuff and that can take its toll. It's no secret that our industry has done a poor job of addressing the mental health of our workforce. It's not an industry that deals with emotional problems well. You finish work at midnight and then go to the bar. That wasn't good.
So I started running as a way to help me deal with the stress and anxiety and fatigue of the job. It gave me mental clarity to deal with fear and self-doubt. Sometimes you walk in the kitchen and wonder how you're going to get through all of the covers and make all of the desserts and get up and do it again tomorrow after four hours of sleep.
So I started running, slowly at first. And then I got a little faster. And then a little faster. Then I ran my first marathon. I've run six so far. It was the most difficult thing I've ever done. Running 26.2 is excruciating. You train for months and it's painful. Then I looked at the challenges at work and realized if I could run 26.2 miles, I can do anything.
We know you're very involved in philanthropic work. Is there something you're particularly passionate about?
CS: There are so many amazing charities out there. Right now I'm really involved with Holy Apostles Soup Kitchen in New York and supporting their Farm to Tray gala every year as a featured chef. I think everyone should have access to good food. That shouldn't be a privilege. I'm not talking about fine dining, but good, healthy food. Feeding your family shouldn't be inaccessible. It shouldn't break the bank. This kitchen feeds thousands every week. Plus there's a computer lab for job searches, internet. It's an amazing place.
On the rare occasion that you have an off day, what are you making for yourself?
CS: I eat a lot of sugar while I'm working. So I crave the opposite at home. I really love fresh vegetables. I lived in France so I love good cheese. I cook really simply for myself. I think a lot of chefs do. I love a delicious pasta dish. I love making fresh pasta if I have the time. I just want good, quality ingredients.
---
Want a recipe from Chef Schiff? Read her recipe for Lemon Poppy Shortbread Cookies here!