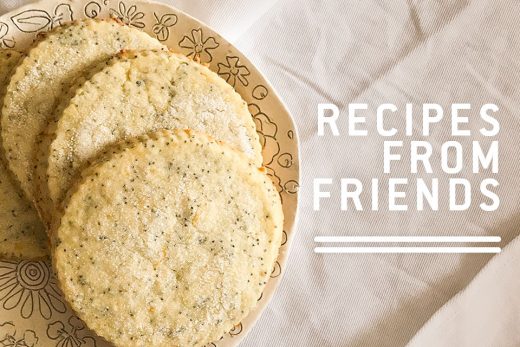 Sometimes we have chefs write guest columns. Sometimes we have chefs contribute recipes. But when we can combine them into one post – and have it come from the incomparable Chef Caroline Schiff – we consider ourselves blessed.
For this Mother's Day, the New York-based Chef Caroline, owner of ParadigmSchiff, is sharing a childhood recipe just for our blog readers. But what makes it even more fun is that she's sharing the reason why it's one of her favorites.
And be sure to look for a Q&A with Chef Caroline next month for our Chef of Chef Works feature!
---
For Mother's Day it should come as no surprise that I love giving a homemade, edible gift. And I didn't get this way yesterday. This has been my style for years.
I'm a professional pastry chef. But even growing up, baking for my mom was a no-brainer. I loved surprising her; but it was also necessary. I was incapable of saving my allowance because I'd spend it all on candy ASAP every week. I never had anything left to shop with.
But I did have access to a fully stocked pantry and my library of butter-stained baking books. I'd take inventory on what I had to work with. I'd rifle through various books to find the right recipe for mom.
The importance of that element of surprise wasn't lost on me. I knew then as I know now that part of the joy in gift giving is catching your victim completely off guard.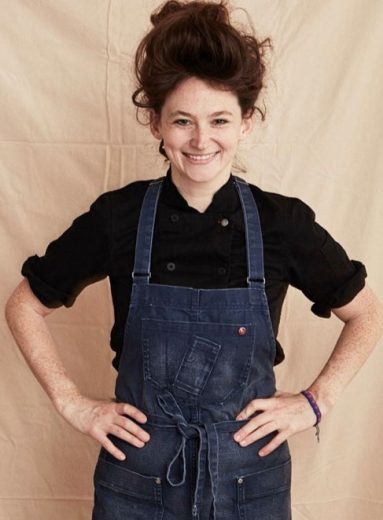 Fortunately, messy weekend baking projects were par for the course. No one suspected I was up to anything but my usual Saturday shenanigans when left to my own devices. I'd keep it simple. A cake would have been too difficult to conceal. But cookies were just the thing — buttery, melt-in-your-mouth shortbread cookies to be specific.
I was about 8 when a family friend brought some shortbread back from the United Kingdom. I quickly declared them the superior cookie. I dunked them over and over in a jar of lemon curd – experiencing the perfect combination of sweet and salty. The lemon made me pucker-up and wanting more.
I found a recipe in my "Winnie the Pooh" cookbook and I was on a kick, you could say. With pantry staples as the base ingredients, and nothing more than good butter and salt needed to make them irresistible, they were the perfect Mother's Day treat. They never let mom or anyone else down, and I could make them in stealth mode.
They're still a favorite. and professionally, I've found shortbread to be incredibly versatile. Nuts, cocoa, citrus zest and herbs all work beautifully and interchangeably with the simple, yet satisfying canvas of butter, flour and powdered sugar. I've created my own recipe over the years and the key is to mix the dough just enough and then stop. Don't overdo it or your cookies won't have that light, melty quality.
Make them for mom this Mother's Day, or anyone else you love. Or when you've spent all your allowance on candy.
---
LEMON POPPY SHORTBREAD COOKIES
Prep time: 20 minutes
Cook time: 32 minutes
Servings: About 30 cookies
2 sticks soft, unsalted butter
Zest of 1 large lemon
1½ tsp lemon juice
2/3 cup powdered sugar, sifted
1/2 tsp fine sea salt
2 cups all-purpose flour, sifted
1 Tbs poppy seeds
Flakey sea salt and granulated sugar for finishing
In a mixer with a paddle attachment or with a hand-held electric mixer, beat the butter on medium-high speed until creamy. Add the lemon zest and juice and mix to combine. Turn the speed down to low and add the powdered sugar. Beat until all the sugar is incorporated and the butter is light and fluffy. Stop mixing and scrape down the bowl with a spatula as needed.
Using a spatula, scrape any butter off the paddle or beaters and back into the mixing bowl. Switch to a spatula and working by hand, gently incorporate in the flour, fine salt and poppy seeds, folding gently until the mixture is uniform. Shape the dough into a log about 8" long, wrap it in plastic and chill for at least an hour.
Preheat the oven to 325 F with the racks in the center. Allow the dough to sit at room temperature for about 10 minutes, and then slice it into ¼" thick rounds. Dust each round in granulated sugar and transfer to two parchment paper-lined sheet pans, baking nine cookies per tray at a time. Bake for 8 minutes, rotate the pans 180-degrees and top each cookie with a little flakey sea salt. Bake for another 8 minutes.
The cookies are done when still light in color, with a touch of golden brown around the edges. Let them cool fully on the sheet trays before eating or boxing them up for mom. They'll keep for about four days in an airtight bag or container.
---
Interested in submitting a recipe to the Chef Works blog? Email: kgemmell@chefworks.com