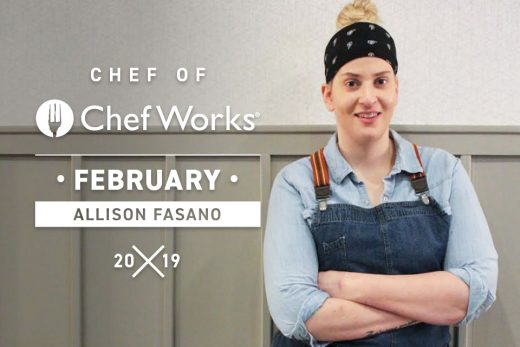 ---
Each month we feature a Chef of Chef Works. If you're a fan of Chef Works gear and are interested in being featured, email kgemmell@chefworks.com. Pictured above is our February Chef of Chef Works, Allison Fasano, photographed Sal Margiotta at Harley's American Grille in her Berkeley Apron. 
---
At the rate she's going, Executive Chef Allison Fasano won't have much more to check off her bucket list.
At 28, she's already running the show at Harley's American Grille in Farmingdale, N.Y., on Long Island. Before that, she was Bobby Flay's sous chef at Gato and she's also worked at Michelin Star restaurants like Del Posto and The Sagamore Resort. She even got a chance to face her mentor last summer when she appeared on "Beat Bobby Flay".
She took some time to chat with the Chef Works blog about her Rachael Ray-inspired passion for food, her love of pasta and the seafood-themed dinner she'd make for Celine Dion.
What inspired you to become a chef?
Allison Fasano: When I was 11 years old, I was flipping through channels. I'd never really watched the Food Network before and the show that inspired me was "30 Minute Meals" with Rachael Ray. I remembered she had this great ability to let her walls down and let people in. It was the first time in my life seeing someone do what they really love. She always had a smile on her face and she's such a great storyteller. I was like, 'OK, this is what I want to do. I want to be Rachael Ray.' She has been my biggest inspiration.
Have you two had a chance to meet?
AF: The first time I met Rachael I was 18 years old. When I get really excited about something, I laugh a lot and then I cry. Here I am meeting Rachael Ray with a shirt that says 'I heart Rachael Ray' and I start crying. Then I did her burger bash this year and of course I wear the 'I heart' shirt. She came over and gave me a big hug and she gave me her phone number. So we're like friends now.
So you're an 11-year-old Rachael Ray super fan. How do you start charting your career path?
AF: I actually focused my whole life on food and cooking. I was always the class clown. I was always a comedian. Now I cook and tell jokes for free so it's a win-win for everyone around me. I would come home from school every single day and watch the Food Network and I got my first food job at 14 at an Italian bakery where I grew up in Williamsburg, Brooklyn. I knew I always wanted to be a chef, so I went to school in the South of Italy in Calabria. I'm one of those people who say they are going to do something, and then I do it. A lot of people are surprised to hear that I'm 28. But I've just focused my life on food and always striving to be better than I was yesterday.
What's your favorite thing to make for yourself?
AF: My favorite thing to make and to eat is pasta. Pasta is the gateway to my heart. It's that ultimate comfort food. Yes, my background is in Italian cooking. But my style is very 'nonna' style — those organic, rustic, bold flavors. It's the food that gives you a hug on the inside. People think I like to eat fancy pasta. But I could do a pomodoro fresco which is like my favorite thing to eat and make. I'm a very simple person. I'm a purist.
If you could cook for anyone – alive or dead – who would it be and what would you make?
AF: Oh my god, it's Celine Dion. If I ever met Celine Dion, I would faint. Not a joke. I saw her in Vegas a few years ago. You know when you cry, you start hyperventilating – that's me. I've loved her since I was like 4. I like to have Celine Dion-athons and listen to her for hours. That's a typical Tuesday for me. I think I'd make a menu inspired by her songs. "My Heart Will Go On" would obviously be a seafood dish. I would make pasta, maybe a take on linguini and clams – maybe something with a saffron broth. It would have to be really elegant for the queen. Only the best. I don't know if I'd survive that meal, but it would be epic. Her meal would be a little salty because I'd probably cry the whole time. I've actually been waiting for someone to ask me that question my whole life.
You've already appeared on "Beat Bobby Flay" and the Food Network was the catalyst for your career. Any upcoming appearances we should know about?
AF: I do, but I can't talk about it yet. But I've dreamt my whole life of having my own TV show. Being on the Food Network and getting to do it on Bobby's show was such an amazing experience. I learned so much from him. He's so nice. He was always very personal and knew everyone on his staff. I was so excited to be there because it was a dream come true. And I've got more dreams. I'm just getting started.