While you're busy running service, we're scouring the Internet in search of the latest and greatest stories to hit the airwaves. This week, a bacon shortage threatened to send pork fans into a full-blown frenzy, bartenders are swearing off booze and the rise of "slashie" concepts has created an entirely new restaurant culture – any way you look at it, the wild world of food has never been so deliciously delectable.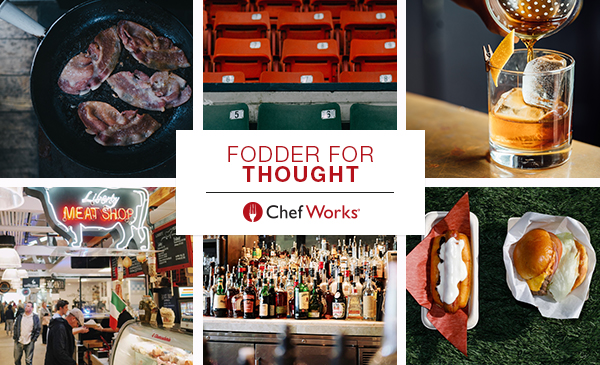 The Truth Behind This Week's Bacon Shortage | Tasting Table
Chills rippled through the bacon world as the USDA released a report implying that the United States was headed for a catastrophic bacon shortage, with only 17.8 million pounds of pork belly in reserve at the end of 2016 (which, let's be real: may not be enough to get through the brunch rush at Nopa). Upon closer inspection, however, the hysteria may have been a bit premature: while our reserves may be low, the U.S. is still producing approximately 75 million pounds of pork belly a week, and pig production as a whole was up by 3 percent. So stock up and dig in – bacon is safe on the plate, for now.
Late to the Game, Football Stadiums Aim for Better Food | New York Times
Toss the soggy dogs and Bud Light – craft cuisine has taken over game day, offering elevated sandwiches, brews, and tailgating favorites to fair weather fans and diehard followers alike. Leading the charge, the Atlanta Falcon's new downtown stadium will offer chef-driven walk-ups from such beloved local spots including Antico Pizza and Farm Burger, alongside new concepts such as Game Changer and Closed on Sunday, both from "Top Chef's" Kevin Gillespie. Until the new stadium opens later this summer, pigskin fans can stop by the Minnesota Vikings' U.S. Bank Stadium, or the San Francisco Giants' Levi Stadium for some gourmet grub in-between touchdowns.
Slashies: Divide and Conquer | Food Fanatics
The sharing economy has crossed over into the restaurant world, with owners opening multiple concepts under one roof. Helping to maximize profits, increase revenue streams, and offer variety to fickle diners, this next-generation of "slashie" concepts is taking the culinary world by storm, and is giving chefs the creativity to test out more experimental concepts alongside more traditional offerings.
When Top Bartenders Give Up Drinking | Food Republic
Drinking is the name of the game for top-notch bartenders – that is, until, they swear off booze. A growing trend among industry elites, including The Dead Rabbit's owner and famed barkeep Jack McGarry (Tales of the Cocktail's International Bartender of the Year, Worlds Best Bar, World's 50 Best Bars), Jim Kearns (Happiest Hour, Slowly Shirley: NYC), and Grant Murray (Scotch & Rye: Scotland), bartenders are taking a sober approach to crafting their award-winning menus, and have found that a clear head is a recipe for success, in and out of the bar.