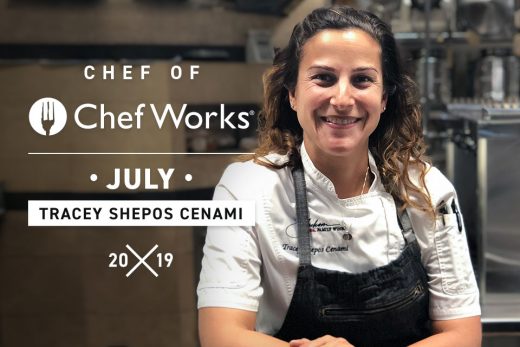 ---
Each month we feature a Chef of Chef Works. If you're a fan of Chef Works gear and are interested in being featured, email kgemmell@chefworks.com. Pictured above is our July Chef of Chef Works, Tracey Shepos Cenami, photographed in her Women's Springfield Chef Coat and Manhattan Bib Apron.  
---
Chef Tracey Shepos Cenami cut her teeth in the kitchens of San Francisco. But it wasn't until she started at Jackson Family Wines in Napa, Calif. that she learned to look at food in a whole new light.
The Food Network regular and award-winning author of "Season:  A Year Of Wine Country Food, Farming, Family & Friends", took some time to chat with the Chef Works blog about her journey to wine country, her evolution as a chef and how the right wine pairing will "part the clouds."
You're very proud of your Italian heritage. Can we assume that played a role in your love of food?
Tracey Shepos Cenami: Absolutely. It was a very typical Italian family. My grandmother always had sauces on the stove. My mom and dad were both great cooks so I was constantly surrounded by great food. I don't ever remember ordering off of the kids menu. My sister and I weren't the kids who were left at home when my parents went out to dinner. I was able to appreciate great food at a young age.
How did you make your way to wine country?
TSC: I was working with some great mentors in San Francisco. Then I was working for a restaurant group and helped them open about six restaurants – including Willi's Wine Bar — so I eventually moved up north of San Francisco. At the time, it was really awesome to be a young chef because it wasn't quite the food mecca that it is now. As a young chef, I was really immersed in this amazing food community and it was pretty amazing to grow up with the food scene. It's an awesome environment. It doesn't feel competitive and all of the chefs are really supportive.
What's the adjustment been like from restaurants to a winery?
TSC: I think that was probably the hardest part when I came to Kendall-Jackson about 11 years ago. I was thinking like a typical chef. I just wanted to make good food. At a restaurant, I'd tweak a dish, take it to the somm [sommelier] and they'd recommend a wine.
It's the complete opposite here. I'm given five bottles of wine and told to create a five-course meal where the wine is the showcase of the meal and I have to create a dish around that. I can't change the wine. I have to change the food to accentuate the wine. I talk to the wine makers and work with the somms and I really get to discover what their goals and intentions were for each wine. Then I get to find ways to bring those out through food.
---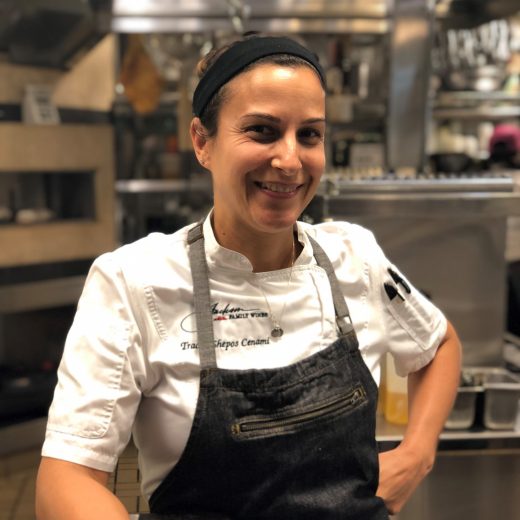 ---
How has that changed your palate?
TSC: The cool thing about this industry is there are so many arms and it branches into so many different directions. I wouldn't say I'm more evolved than any other chef. I just think I chose to go down this path. There are chefs who are master mushroom foragers or bread masters or charcuterie masters. I've just honed my skills in a different way.
The way I think about food and wine together has changed. I always liked wine. And I knew some food and wine tasted good together, but I didn't really know why. I didn't understand why. Now I do. And the best part of my job is that I get to share that with other people. We have those moments where the pairing is so stinking good and the clouds part and it all just comes together. They remember that forever. And that's really why we all do what we do. We want customers to have that experience. We want them to have a meal they'll still be talking about for years.
You've had a lot going on outside of the kitchen. What's the latest?
TSC: We recently found out that our book was named cookbook of the year by the International Association of Culinary Professionals. We knew we were up for best chef-driven cookbook award. And we won that too. But to win the cookbook of the year is a huge honor.
I've also appeared on Guy's Grocery Games five times and am probably known for winning the tournament of champions. I was also on Beat Bobby Flay. I won the first round, but lost to Bobby. I felt like my dish deserved to win. I'm sure everyone who lost says that. But I really mean it.