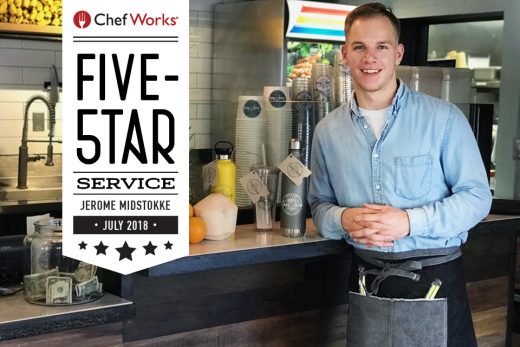 ---
Chef Works will be spotlighting someone in waitstaff each month through November as part of our "Five-Star Service" blog feature. In December, we'll ask our blog's readership to vote who has the "best story." We'll dress the winning restaurant with Chef Works gear! Pictured above is Jerome Midstokke of Original ChopShop in his Bronx Half Bistro Apron. 
---
Jerome Midstokke looks at his future and sees a commodity he's rarely been afforded during his first 21 trips around the sun: Control.
A product of the Wisconsin foster care system since age 2, Midstokke dreamed of a day when he would be independent and wouldn't have to rely on the decisions – or mistakes – of others for his life to progress.
"I started working at age 16," Midstokke said. "I bought my first phone on my own. I bought my first car with the help of my foster parents. And then I sold my first car so I could pay for a ticket from Wisconsin to Arizona so I could go to college. I'm thankful for those who helped me along the way and the relationships I made. Gaining my independence was important to me. But I'm also appreciative to the people who helped me get to where I am."
Midstokke is entering his senior year at Arizona State University in Tempe where he's set to graduate in 2019 with a degree in business management. In between classes, he's the shift leader at one of the seven Original ChopShop locations in the greater Phoenix area. The corporate managers at Original ChopShop — which also operates in Texas and serves healthful food, smoothies and juices –recognized Midstokke's work ethic immediately and he was promptly promoted to shift leader.
"When you're in the people business, as we are at ChopShop, surrounding yourself with people who are smart, driven and fun to be around is key," said Kyle Frederick, chief operating officer of Original ChopShop. "Without question, those are three qualities that Jerome embodies. We are lucky to have his energy on loan to us while he studies at ASU and prepares himself for the next big thing."
Given his circumstances, it's not hard to imagine Midstokke's life taking a much darker turn. Both of his parents were incarcerated when he was 2, so he, his twin brother and their 1-year-old brother were put into the foster care system. The three boys were able to stay together until their teenage years, but were forced to split before Midstokke's junior year in high school. That's when he made the decision to take charge of his life.
He applied for every scholarship and grant possible and moved himself to Arizona. He worked to establish in-state residency to lower tuition costs by his sophomore year and has dedicated himself to work and school.
"I'm proud of my work ethic," he said. "Things could have been worse. And they were for a lot of kids I know who grew up in the system. The experience taught me a lot about character development and overcoming hardships. It's made me a stronger person."
Midstokke has only been back to Wisconsin once in three years. He talks to his biological father regularly, but not his mother. His brothers have had their own problems, but he hopes one day he'll be able to move them both out to Arizona.
His work at the Original ChopShop introduced him to the food service industry. And he's thinking he might have a future there. Except in his dreams, he's running the show.
"I'd definitely love to one day run my own company," he said. "I'm very fond of the restaurant industry. I want to help managers develop the way I was able to develop. I'm also a fan of retail and logistics. But who knows what life will throw at you.
"I'm preparing myself for anything."