"Color is my day-long obsession, joy and torment." – Claude Monet
The transition from winter to spring is commonly associated with color — and for obvious reasons. Color returns to trees and flowers and it's generally viewed as a time of renewal.
If your spring cleaning involves a branding overhaul – or even a little revision – keep in mind that a little bit of color can go a long way towards improving your image and bolstering the mood of you and those around you.
It's called color psychology, and it goes back a few hundred years. The linked article has some really interesting facts about different colors and the impact they have on the psyche. It's worth a read.
But what does that mean for you and your uniform program?
We happen to have someone on our staff who knows a little something about branding. Amanda Stuckey, vice president of marketing for Chef Works, has some thoughts.
"Today's consumers want a complete experience," Stuckey said. "If you're serving amazing cuisine, but your staff is doling it out in mismatched uniforms and drab colors, that's going to have a negative impact on their mood and the mood of the customer. That could impact your bottom line."
We've got some recommendations for spring colors for you to consider. Purple, for example, is a great spring color and is often associated with royalty. As the story goes, this stems from the high price of dyes dating back to the Elizabethan era. It was so expensive that only royalty could wear it.
Unless you're the Sausage King of Chicago, we're going to assume that you aren't royalty. The good news is, you won't have to dig into your coffers to find updated, colorful looks.

Havana Shirt and Dorset Half Bistro Apron
We recommend pairing the Havana Shirt (for women or men) with a Dorset Half Bistro Apron. This is a cooling and breezy combination that works great for bartenders and waitstaff.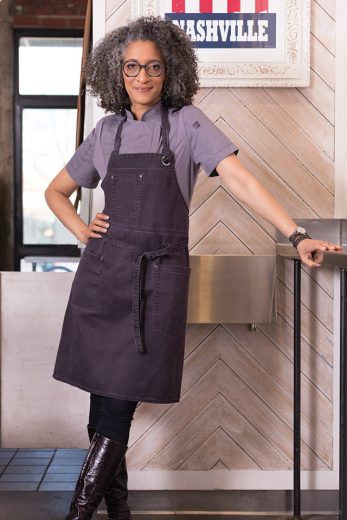 Dorset Bib Apron and Springfield Coat
For the back of the house consider a Dorset Bib Apron over a Springfield Coat. The Cool Vent™ technology in the coat keeps you cool as the days get warmer, and the Dorset is lightweight, but sturdy.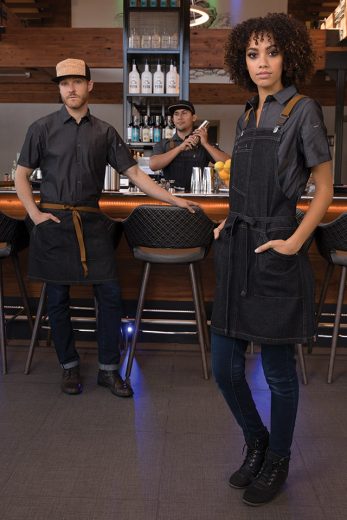 (On her) Berkeley Apron
And if you want options, you can't go wrong with the Berkeley Apron, which has more than 320 color combinations!