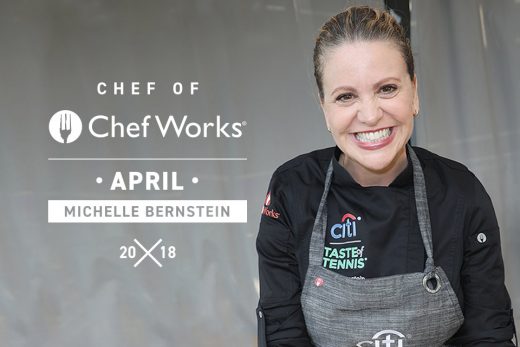 Miami icon Michelle Bernstein is one of the nation's most recognizable celebrity chefs. Whether it's appearances on television, running a catering business or penning a book, the James Beard winner is always keeping busy. She was kind enough to chat with our blog after her appearance at the Citi Taste of Tennis last month, where Chef Works was the culinary apparel sponsor for the event.
Bernstein discussed the Miami food scene, the James Beard semifinalists she's worked with and some of her favorite charities.
We're coming up on the 10-year anniversary of you winning the James Beard Award for best chef in the South. How has your life changed in the last decade and what did that award do for you?
Michelle Bernstein: My life changed dramatically more because I became a mother than anything that happened to me prior. In some ways as a chef I feel my job is never done. I feel the need to constantly review, change and fix. As a mother I just want to be as good as I can be and always be there for my son.
How rewarding is it for you to see chefs that you influenced being named James Beard semifinalists?
MB: There's nothing better. There's more of a sense of pride in that than receiving one myself.
What's hot and trending in the Miami food scene now and how much fun was it to do Citi Taste of Tennis in your hometown?
MB: We're seeing really good vegan restaurants opening more and more. I feel we finally are strong in specialized food for people with specific dietary needs or likes. We finally have great Mexican options, as well as some of the best sushi in the country.  There's nothing better than to work next to friends and local chefs that I respect and admire. I also get to hang out and talk to people who love to dine around town. I rarely get to see those folks because I'm usually in the kitchen.
You've got one dish to make for [insert hero/celebrity of your choice]. Who is your hero/celebrity and what are you making for them? 
MB: It would be Julia Child and probably fried chicken. Something that's not French, not classic and not in her books.
Tell us about some of your favorite charities.
MB: I am on the board of Common Threads, and I have been for years. We are a foundation that teaches underserved kids to cook, about nutrition and socialization. We even get to teach their parents if they are interested during the summer. I love the ASPCA (American Society for the Prevention of Cruelty to Animals) of course, they are the best. And breast cancer awareness is close to my heart because of my dear mother.
When – or should we say if — you do have downtime, how are you spending it?
 MB: I don't have much. If I do, it's at the beach with my husband and son doing as little as possible. I also love a good picnic.
(Note: Chef Works will also be the apparel sponsor for Citi Taste of Tennis DC on July 30 and Citi Taste of Tennis New York on Aug. 23).
---
---