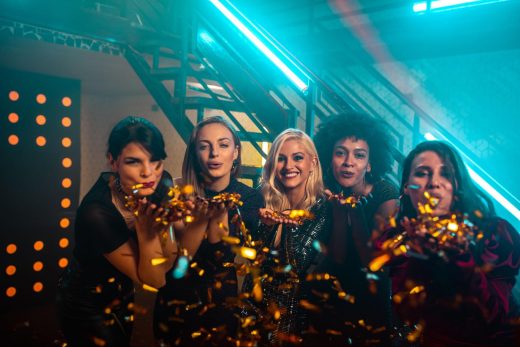 Social media — especially Instagram — is a great tool for attracting new customers. But the constant selfies and food photographs have also irked some chefs. Regardless, more people are using social media to inform how and where they dine. So what's the "vibe" check of 2023? What's going to bring people into restaurants this coming year? In this edition of Weekly Bites, we highlight three stories that cover how social media is transforming the newest trends in dining. From a resurgence of opulence to a new era of food posts and highly 'grammable bathrooms, we have our finger on the pulse of new restaurant trends for 2023.
The past year has seen a resurgence of menus and restaurants that are glitz and glam and fancy for the sake of fancy. Menus stuffed with foie gras, uni, and lobster, alongside a martini explosion, have become the norm. 
We've reported elsewhere that a common trend in 2022 was pared-down tasting menus that focus more on small, intimate experiences and celebrate ingredients that are thoughtfully sourced and celebrated for their sustainability. These menus were in stark contrast to the fine dining of the past where lobster and foie gras were almost obligatory additions to the menu. 
While we do think that this trend will continue, we're seeing the emergence of a new kind of fine dining. And we're seeing it on Instagram — where the dining experience is all about drinking martinis while wearing sequined dresses, and dining on lobster and caviar. 
What's prompting the rise of this experience? Is it that young people are so pessimistic about the future that they're willing to indulge in the present? Is a reincarnation of the Roaring Twenties unfolding before our eyes?
Any restaurateur can attest to the fact that going viral (in a good way) on social media can absolutely make a restaurant's year. A perfectly mouth-watering photo and a glowing review from someone with thousands of followers does a lot more than a five-star Yelp review. 
In the past, most viral posts of restaurants included a close-up photo of the food itself, tempting followers to flock to the restaurant in the hopes of tasting the featured dish. 
In 2023, Instagram posts are changing. Diners are straying away from the food post, and posting more restaurant selfies — documentary photos and videos of the experience of the restaurant.
And of course, restaurants are catering to this new style of post, by creating unique experiences in their restaurants. This includes putting in selfie-backdrops, and tableside service for things like caesar salad and salsas. 
The new generation of restaurants posts on Instagram are carefully constructed to look candid, and not at all curated. Think blurry photos of a wild night out, or a casual photo of a plate wiped completely clean of food. What better endorsement can there be? 
In the era of selfies, how do restaurants provide spaces that people will want to take photos in? 
The bathroom is a great start. Brooklyn Taiwanese restaurant WenWen transformed their otherwise unremarkable bathroom into an homage to Taiwanese karaoke bars using nothing more than a can of paint and some kitschy decor. The Persian restaurant Sofreh covered their bathroom from head to toe in posters of Iranian movies banned after the 1979 Iranian Revolution. 
These trippy, other-world bathrooms have become a big hit on Instagram, drawing hundreds of new customers to these restaurants. 
We've reported before that more restaurants are being intentional about their bathroom design — and that those designs involve costly renovations. These two restaurants in Brooklyn highlight how inexpensive but funky decor items can completely transform a bathroom and give guests the opportunity to feel like they're stepping into a whole new world.