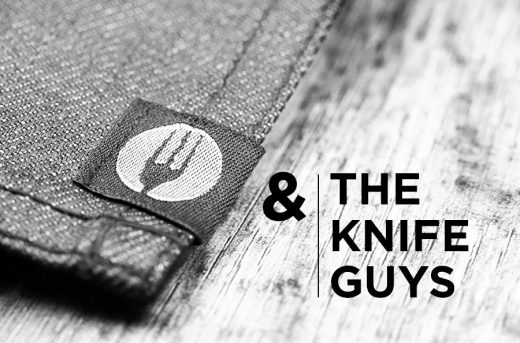 Customer service has always been at the heart of Chef Works® — the global leader in culinary and hospitality — and The Knife Guys – Denver's premier knife sharpening and restaurant supply store.
So it only makes sense that when the two decided to team up, the first and most important talking point was how to maximize the customer experience.
On Oct. 16 The Knife Guys will host an open house to showcase a new Chef Works® concept called store-in-store, where restaurateurs, chefs, servers, bartenders and general managers can see first-hand why Chef Works® is the elite brand in culinary and hospitality apparel.
"It's one thing to talk about all of the features of a chef coat, but it's completely different when you're able to have that tactile experience and feel firsthand what our award-winning Cool Vent™ technology feels like," said Amanda Stuckey, vice president of marketing for Chef Works®. "We know that when someone puts on our apparel, the Chef Works® difference becomes apparent as the products sell themselves. This partnership with The Knife Guys brings two fantastic brands together."
The Knife Guys is located at 11 Kalamath St. in the Baker neighborhood of Denver. The official opening will begin at approximately 3:30 p.m. and will feature bites, beer, wine and spirits.
"We want our customers to have a nice, broad selection of products when they come into our store," said Darryl Hoffman, partner at The Knife Guys. "We wanted to bring more current trends and styles to our customers so they can look and feel good. Our team is made up of restaurant pros who worked the line and managed kitchens and have used Chef Works® for years. This partnership puts those trends and styles directly into the hands of our customers."
The new store-in-store will feature some of the most popular items from Chef Works®, including chef coats, aprons, shirts, pants and accessories for the front and back of the house. Chef Works® apparel ranges from classic and traditional to the street-inspired Urban Collection.
"Whether you want a traditional chef coat, or an apron and tee-shirt combo, The Knife Guys is proud to offer Chef Works® to our customers," Hoffman said. "This is something that has been missing in the Denver market and we're excited to fill this void."
For more information about the opening, visit the The Knife Guys website or call 303-693-0032.
---
About Chef Works®
Chef Works is the global leader in culinary and hospitality apparel with unrivaled distribution in more than 70 countries.  With an emphasis on fashion and function, Chef Works dresses the back of the house and waitstaff for a diverse range of customers including: International hotel chains, award-winning restaurants and bars, culinary schools, food service companies, laundries, assisted living facilities and upscale cinemas. The family-owned-and-operated business has helped pave the way for the current culinary uniform movement by working directly with celebrity chefs, industry leaders and hospitality influencers to develop innovative, fashion-forward garments.
About The Knife Guys
In years past we were restaurant pros, chefs who worked the line and managed the kitchen. We've taken our knowledge and experience of the food service industry and created not just a knife sharpening service and restaurant supply, but a rocking' good, customer-focused, we-got-your-back, commercial kitchen efficiency machine. We'll keep your knives sharp, your shelves stocked and your GM happy with the savings. We offer scheduled weekly deliveries of sharpened knives, supplies and equipment. Just call in your order and when your line-cook says "the Knife Guy is here", you'll know it's us.