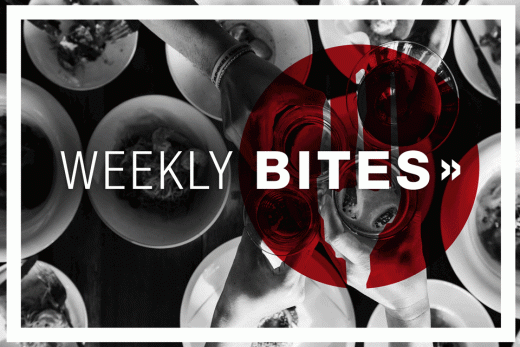 Welcome to Week 28 of 2019. Chef Works® Weekly Bites is where we take a dive into the notable and fun food stories of the week.
First up is guess the quote.
"Ice cream is exquisite. What a pity it isn't illegal." (Do you know who said it? Answer at the bottom).
---
APPETIZER
While there's no statistical data to back this up, the Chef Works® blog is going to go out on a limb and postulate that July is one of the busiest grilling months of the year. It is, after all, national grilling month.
Question is, have you been doing it all wrong? Bloomberg writer Kate Krader talked to some chefs who gave a laundry list of foods that should NOT be put on the grill. Among the reasons are loss of flavor and fire hazards. And at the top of the list: burgers!
I know it's the American standby, but the best burgers come from planchas or a cast-iron pan. Perfect burgers are all about the crust but equally the umami rich fat and natural juices. On the grill, you lose that because the fat drips down onto the coals, and you need those juices.
You can read the full story here.
---
MAIN COURSE
We do so love our big portion sizes. And that often conflicts with diet and weight loss. But a study in the Journal of the American Medical Association suggests that what you eat is more important than how much you eat – which seems logical. Delish has the story.
Sad news out of Louisville, Ky., where the aftermath of the Jim Beam warehouse fire is having some devastating environmental effects. Here's the scoop from CNN.
The snack aisle in the grocery store can be daunting as shoppers are bombarded with colorful marketing and catchy tag lines. To help you navigate it all, People Magazine has its best new snacks for 2019.
---
DESSERT
Sustainability is no longer just for the realm of appetizers and entrees. Yes, desserts can be sustainable too! And it's going mainstream following Nestle's announcement that candy bars will soon come in recycled paper wrappers. The goal is to have everything reusable by 2025. Here's the link from Food & Wine.
---
FOUND THE FORK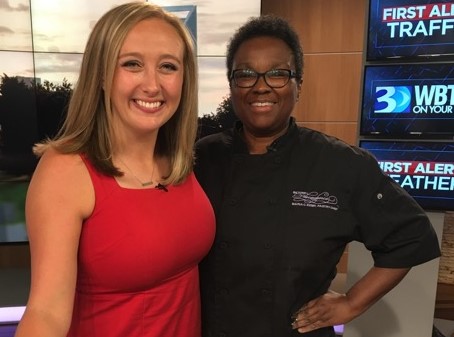 Chef Maria Kemp, right, in her Montreal Cool Vent™ Chef Coat at the WBTV studios with anchor Kristi O'Connor.
You might have read about Chef Maria Kemp last month on the Chef Works® blog and her journey to the kitchen as a single mother.  We're thrilled to see her business flourishing and her making the rounds on TV. And we love when she wears her Chef Works® gear in the wild!
You can watch her full segment here, where she whips up some gluten-free, banana and chocolate chip pudding.
For all of the Chef Works® news follow us on Facebook, Instagram, Twitter and LinkedIn. Be sure to tag us with #FindTheFork and #ChefWorks.
---
WEAR OF THE WEEK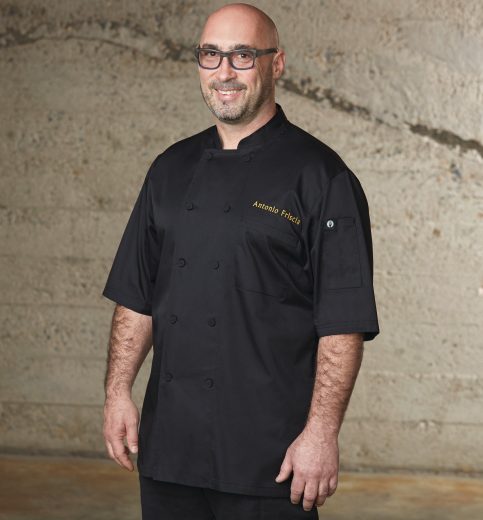 Like Chef Maria's coat? Our Montreal Cool Vent™ Chef Coat is a bestseller for a reason! The three-quarter-sleeve, double-breasted coat has a traditional look with updated features!
It's perfect for chefs who aren't ready to fully commit to short sleeves, but want a little extra wiggle room. And with Cool Vent™ paneling, the Montreal will help you beat back the summer heat with one of our coolest offerings.
---
Quote answer: Voltaire