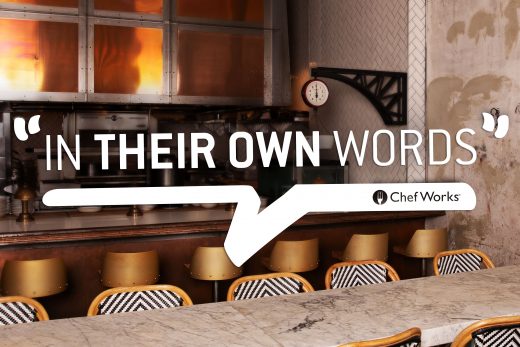 ---
"In Their Own Words …" grants a forum to chefs to discuss issues in and out of the kitchen that are important to them. If you're interested in submitting a topic, email kgemmell@chefworks.com
---
Every chef, every line cook and every caterer has a COVID-19 story. Each is important and unique to them. The Chef Works blog has used this space in the past to give chefs a voice. Now, more than ever, it's important to hear that voice as the culinary and hospitality communities continue to motivate and inspire each other.
Like many, the Nude Dude Food team of Seth Bradley and Ryan Van Voorhis has had to pivot their business out of instinct and survival — but also out of compassion and a need to help their community.
Here are chefs Seth and Ryan, in their own words …
---
Where do we even begin to document what's been happening? Like everyone in the food and beverage industry, we've been hit hard by the COVID-19 pandemic.
Our business went from a steady stream of private dinners, cooking classes, demos and other food-related events to a standstill overnight. Having no income was certainly a wake-up call.
We are very fortunate that we don't have much overhead. We are both owner-operators and we work with a few independent contractors from event-to-event. So instead of going into panic mode, we decided to get back to our basics and follow our hearts: baking sourdough bread.
This has always been a central theme in what we've done. And due to some generous donors, we are lucky enough to have access to a large commercial space during this time. We can mix more than 100 pounds of dough each morning in a 60-quart Hobart Mixer.
While our home-baked sourdough has been a part of every event we've done with the business, we are not professional bakers. The loaves weren't perfect by any means, but with a surplus coming out of the kitchen, we decided to reach out on social media for some taste testers.
---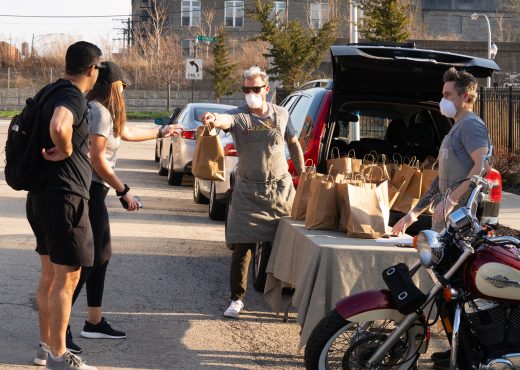 ---
The reaction was intense. What started as handling the order flow through direct messages and emails quickly manifested into an on-line ordering form. Within a week, next-day fulfillment was maxed out within a matter of minutes.
We never asked for money – only donations. Some people gave cash. Others gave wine or paper towels. But the donations kept ramping up, so we began thinking larger than ourselves.
Some of our local food purveyors started donating food that needed to be used, so we began making meals out of those products to give to the community along with the bread.
Then we started getting $100 donations for one or two loaves of bread. It became apparent that we had not only an ability, but also a responsibility to reach more people in the community. The community had stepped up to take care of us, and in return we had to do more to give back to them.
A few friends who were also frontline hospital workers began to reach out, letting us know about the need for good, wholesome food for those risking their lives to save others. This was a no-brainer.
Here we are four weeks later and the future is as uncertain as ever. We don't know if and when business will return to normal. If you had told us any of this would have happened in a month's time, we would have said you're crazy. Something that had been a dream of ours (scaling up our bread operations) became a way to connect with the community in a way we never had before.
The smiles on people's faces when they pick up a loaf, or the messages from frontline workers about how much the meal meant to them, are worth their weight in gold. In the most difficult of times, the simplest things can sometimes remind us of who we are as humans, and how we connect through the community and around food.
That's the strange beauty we've found in the difficult times of COVID-19.
---
Follow Nude Dude Food on Instagram, Facebook and on their website.
---
Stay caught up with the Chef Works blog: