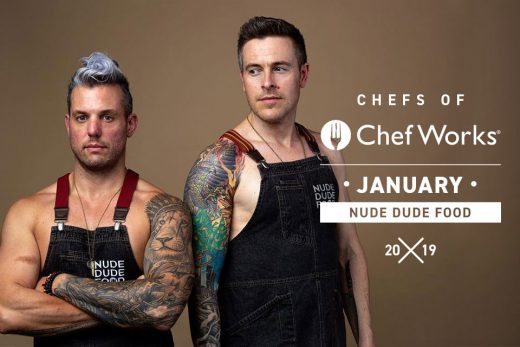 ---
Each month we feature a Chef of Chef Works. If you're a fan of Chef Works gear and are interested in being featured, email marketing@chefworks.com. Pictured above are our January Chefs of Chef Works, Nude Dude Food (L-R: Ryan Van Voorhis and Seth Bradley), photographed in their Berkeley Aprons. 
---
Meet the Nude Dude Food team of Seth Bradley and Ryan Van Voorhis – a couple of longtime friends who took the plunge to leave their careers as a commodities trader and a social worker to become private chefs.
Since launching in 2016, Nude Dude Food's brand has steadily climbed – and their popularity with it. The duo recently won the savory category at the sustainable food competition, WASTED, in San Diego. They took some time to chat with the Chef Works blog about their passion for clean eating, sustainable food, and why shirtless is sexy.
How did a commodities trader/musician and a social worker get together to form this brand that you two have become?
Seth Bradley: We're best friends from high school. We met in driver's education when we were 15 years old. We've been good friends ever since and roommates for the last nine years. We both had a distinct love and passion for food and sharing it with our friends and family. We learned to cook out of a desire to explore and taste real and honest food, and the desire to entertain.
Ryan Van Voorhis: We both learned to cook from our fathers growing up. My father was a fireman so I learned the basics of cooking from him, and I'd spend a lot of time in the firehouse kitchen whenever I could.  It wasn't until Seth became my roommate that I really started to expand my palette.  He became deeply interested in food around the time he was in college, and he was exploring new flavors and ingredients with his father, who is also a great cook himself.
SB: We also do a lot of anti-inflammatory recipe development because Ryan is a longtime sufferer of Crohn's Disease. We wanted to explore that specifically for his diet. Once our food was getting to a point where people started to take notice, we wanted to build a brand that focused on the health and wellness aspect, along with a fun way to bring a different and more personal dining experience for our clients. Nude Dude Food was born. We started posting from an Instagram account in 2016 and a few months later we had switched careers into full-time culinary.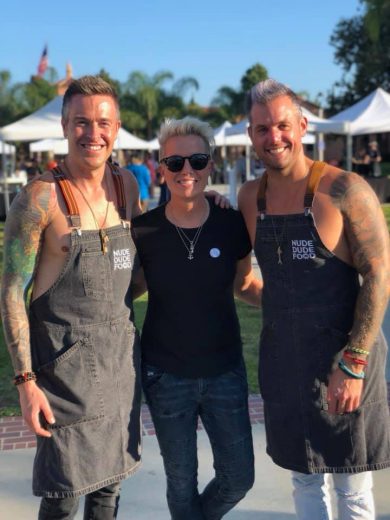 RVV: We've been able to do a couple events featuring health and wellness through the Crohn's and Colitis Foundation and have done a number of donated dinners and philanthropic events through NDF. Even though I'm not doing formal therapy like I did with clients in the past, we still get to be doing things that help the community, albeit on a different career path.
Whose idea was it for the hook to go shirtless with the aprons?
SB: I'm not sure it was one person specifically. Once we had the brand name, we knew we had to do something presentation wise to make us stand out. Once we started putting it out in the universe people's reactions were very positive.
RVV: It's really become a talking point. People ask: 'Are you nude? Is the food nude?'. We really wanted to start developing a health and wellness brand, and It was a way to set ourselves apart from other private chefs.  We want people to know you can eat well and feel sexy. We're both really active in our day to day lives.  Seth is an avid rock climber. I'm often doing various, high-intensity strength and conditioning exercises.  We believe pairing exercise with nourishing food is a critical part of overall daily physical and mental health.
Tell us about your WASTED dish and the inspiration behind it.
SB: We classify our cuisine as contemporary American with international ingredients, and we love using Asian ingredients.  That's how we decided to do an onion-skin ash cured pork belly. We essentially burnt the hell out of onion skins, and made a dry rub with the ash to put on the pork belly. We then slowly braised it with a circulator for 48 hours, and served it with a faux seaweed salad made out of cucumber peels. The peels were sliced really thin and blanched quickly, and when bolstered with some ingredients like nori powder, soy and sesame oil, they really became the texture and flavor of seaweed salad.  We topped off the dish with spicy pickled cucumbers, a gochujang aioli, and some 5-spice brown butter Panko bread crumbs for added texture and pop.  It all came together really well.
How do you make sustainable food part of what you do on a daily basis?
RVV: We do farm-to-table, but everyone should be doing that now so it's a little cliché to say. We source everything locally, and we support our local farmers and purveyors because it's much more sustainable and the food just tastes better, period. We're great about minimizing food waste at home and in our business. All of the scraps or peels or stems we use to make stocks and garnishes.
SB: Most weekends we're cooking for smaller parties on a day-to-day basis so we don't have a ton of inventory, so, it's manageable to not let things go to waste. If we have an abundance of one thing we try to pickle and ferment or preserve it in some way. We always try to use every part of the ingredients we get our hands on and not let anything go to waste.
You've got one person to cook for, dead alive, who would it be?
RVV: I would love to cook for my grandfather. He passed away about 10 years ago and I was still starting my career in social work and we weren't close geographically. I think it would make him proud to see how much hard work we've put into this brand and to make it legit. We're getting more respect from the chef community, which brings the band much more validity than just being shirtless chefs. Cooking for family is what helped start the brand, and cooking for my grandfather would have been special.
SB: It's tough to beat Ryan's answer. Food is always better shared. We hope that people can take the time out of their day to prepare something from scratch and then sit down and have conversation over that food — really making it a part of their day-to-day eating experience.  We want people to see the value and importance in that.
---
NDF will be hosting a cooking class on Jan. 18 and a pop-up dinner on Jan. 19 in La Jolla, Calif. Follow on Instagram or email booking@nudedudefood for more information.