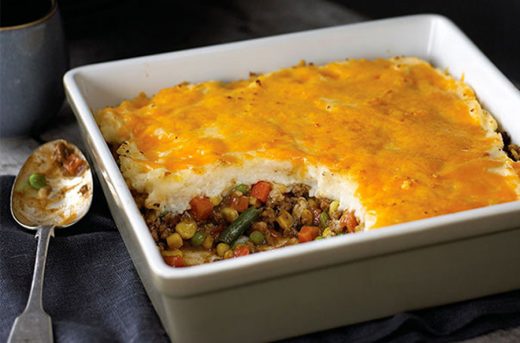 Courtesy Photo / Kraft
By Carrie Sanabria
March is guaranteed to bring two things: Madness and St. Patrick's Day.
Traditionally, St. Patrick's Day is a time to celebrate the patron saint of Ireland and partake in some Irish culture.
Modern day celebrations have also taken on a more festive tone. Think pub crawls (crawling optional), green beer (we'll drink to that!) and of course eating corned beef – lots, and lots of corned beef.
No doubt, this cured, brined and boiled brisket is the king of St. Patrick's Day meats. But what if it's just not your thing? What if you had it last year, and the year before and the 10 years before that and want to try something different? Are you doomed to just eating kale with your green beer?
Fear not! We've got some Irish alternatives for your St. Paddy's celebration. We sat down with Chef Guy Strickland, saucier at The Lodge at Torrey Pines in San Diego, and asked him what some of his favorite, non-corned beef Irish dishes were to cook. And, of course, eat.
"Did you know that corned beef traditionally isn't Irish?" Strickland asked. "It's a very Americanized dish, sort of like the Chinese food we see here in California. Now that I've given that little disclaimer let's get into the good stuff.
"Nothing beats your traditional home cooked shepherd's pie. I prefer to make my shepherd's pie with lamb, but you could use beef if you wanted to.  I layer various vegetables, lamb and cheese into a casserole dish then top it off with cheesy mashed potatoes and bake until the potatoes brown and you get one delicious meaty Irish lasagna."
We've never heard shepherd's pie described as lasagna, but we love it! We could definitely see Garfield's Irish proxy trying to steal one off of the countertop.
"You also can't go wrong with a classic beef and barley soup, or lamb and barley soup," Strickland said. "This dish is just hearty, comforting and delicious. After the shepherd's pie and barley soup I would go for a classic Irish apple cake for dessert."
There's nothing like having options. We'll raise a pint to that.
Shepherd's Pie
Recipe by Chef Guy Andy Strickland
Filling
5 pounds of lamb (substitute chuck or ground beef)
1 large onion, small dice
1 large carrot, small dice
2 celery stalks, small dice
10 cloves of garlic, smashed
1/2 cup peas
1 teaspoon rosemary, Dry
½ teaspoon thyme
½ cup Dark Beer
12 ounces (minimum) chicken broth
Salt and pepper to taste
Topping
6 large russet potatoes
8 ounces butter
½ cup (minimum) milk
4 ounces sharp Irish cheddar (substitute parmesan
cheese)
Salt and Pepper to taste
Directions
Cut lamb in ½ inch cubes. Season lamb with salt and pepper, sear well in a cast iron pan, and reserve meat.
Place onions, carrots and celery in a pan and sweat. (Mirepoix)
Add garlic and peas when mirepoix is translucent, return meat to pan, and add ½ cup of dark beer when garlic is aromatic.
Deglaze pan and reduce beer to near dry, then add herbs and chicken broth to cover.
Simmer under low heat until lamb is tender.
Continue to monitor and add broth as necessary.
Peel and quarter potatoes. Boil in lightly salted water until potatoes are fork tender.
Drain water, add butter, milk, cheese, seasoning and mash to combine.
Spread potatoes over the filling and bake at 400-degrees until potatoes are lightly browned.