If you love your Chef Works apron, use it outside of the traditional kitchen setting (makeup artist, potter, florist, baker, etc.) and would like to be an Apron Ace, email marketing@chefworks.com.
Mel Amaral speaks with an unmistakable fervor when describing her job as a hairstylist. She talks about it the way an artist deconstructs a painting or a chef raves about food. Amaral, 27, has small-town beginnings (extra credit if you know where Gustine, Calif., is) but a big passion for making people feel wonderful. This month's Apron Ace, who recently relocated from Southern California to Chico, Calif., chats about her roots (not a pun), her specialties and – naturally — her Bronx apron!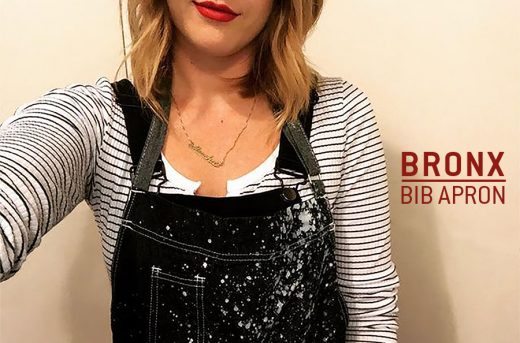 ---
How'd you get started as a hairstylist?
Mel Amaral: If you ask my dad, it started when I was 6 and had a fake salon in my house. I charged him for head scratches and I charged my mom for braids. I started college at California State University-Chico and was studying art history. But I was spending a lot of time cutting my roommate's hair or giving guys clipper fades in the dorm rooms. I just woke up and said I don't want to do college anymore.
---
What do you love most about your job?
MA: Making people feel good. I've had somebody cry and say they've never felt this beautiful before. That's crazy. It was just two hours of my day. But for this person it's the best they've ever felt about themself. That's a pretty cool feeling when you can do that for someone.
---
Is there a specific technique or style you're known for?
MA: Dimensional colors are my thing. I like making hair look really natural and sun-kissed. When you think of a child or a young girl's hair, it's very multi-dimensional because they are always in the sun and it's a very natural look because it hasn't been touched yet. I like to recreate that in the adult world.
---
I would imagine the trends are always changing. What's the best way to keep up with that?
MA: Absolutely. And the easiest way to keep up with them is social media. You can follow anyone – celebrity or not – at any level. If a trend is going to break it's going to happen on social media before anywhere else.
---
Speaking of celebrities, is there anyone in particular you'd like to work on?
MA: I feel like I would want to work on, and this is going to sound so 20-years-old of me, one of the Kardashians or Jenners because they are always trying to find the next look. They are always pushing the envelope from a wet look to a blunt bang to multi-colors to different lengths. I think one of them would be really fun because they are open to change.
---
We love how you've "styled" your Bronx Apron! How important is our gear for what you do?
MA: So, so important. I actually never wore an apron for the longest time. I was tired of ruining my clothes because bleach and color would get all over it. I wanted something that wasn't heavy. I didn't want to feel like I was wearing a trash bag and constantly sweating. And I wanted something that looked good too. You want to look cute, but I'm not going to ruin my clothes over it. Finding an apron that looks good and doesn't make you sweat and protects your clothing is important. I found that with my Chef Works Bronx apron.
---
Follow Mel.
https://www.instagram.com/hernameismel.hair
---
Follow Chef Works on social media.
@ChefWorksHQ
@Chef_Works
@chef_works
---