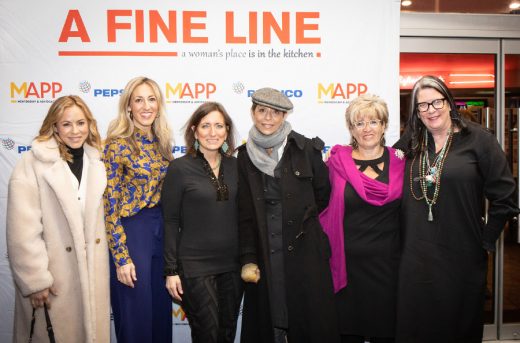 ---
There are some projects that are so relevant and on-point that they seem to have been created just for a specific moment in time.
That might appear to be the case with "A Fine Line" – the apt and hard-hitting movie about women in the culinary industry. Turns out filmmaker Joanna James was thinking about the struggles women face in culinary long before the #MeToo movement thrust those issues into the mainstream.
"We actually started out five years ago and I wanted to share my mother's story and what she went through in the restaurant industry to get to where she is today," James said. "The film was already completed by the time #MeToo hit and we were already doing the festival circuit. We made the decision to go back in and edit the film following some of the industry news surrounding Ken Friedman and Mario Batali.
"It didn't sit right with me to have a completed movie and not address it."
As International Women's Day approaches this weekend, James is continuing to help champion the cause for women. Despite being raised in the industry, she never realized that fewer than 7 percent of head chefs and restaurant owners were women.
That, along with her mother's journey, is what inspired her transition from reporter to filmmaker. She served as writer, director and producer for "A Fine Line."
"At the heart of the film, I wanted to keep it what it always was intended to be, which is an inspiring, uplifting story that motivates others – especially women," she said. "Don't ever let anything stand in your way. Just go for it."
Chef Works® was proud to provide support to James and "A Fine Line" through financial sponsorship and the donation of chef clothing. Chef Works® was one of the first companies in the culinary apparel industry to provide exclusive women's apparel designed by women, for women.
"The work Joanna is doing is so important for the generation that came before her and the next generation of chefs and hospitality leaders to come," said Mai Cao, corporate social media & sponsorships manager for Chef Works®. "We knew this was a project we needed to be involved in. Our role as a good corporate citizen isn't just to provide apparel. It's to understand the needs and challenges of our community. 'A Fine Line' certainly paints a vivid picture of many of those challenges women have faced.
"It's an honor to partner with Joanna and our fellow colleagues she's banded together – PepsiCo, U.S. Foods, Grubhub and Markham Vineyards – in this mutual fight for equal opportunity and equal representation for women."
The film made its New York premier last week, helping to build momentum for the film's PBS Broadcast in honor of Women's History Month.
---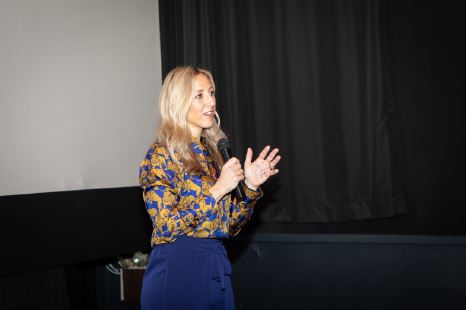 ---
Among the issues tackled in the movie are workplace harassment, equal pay, paid parental leave and affordable childcare access. James has also used her platform to help launch MAPP – a social impact campaign aimed to empower women through mentorship and advocacy.
"We've been fortunate to speak with countless women in the industry and across the country during screenings of 'A Fine Line,'" James said. "So many come up to us after and thank us for making this film. That's the greatest reward I can ever get. We want to keep helping women advance."
Following the New York premier, several of the chefs featured in the movie – including Dominique Crenn, Valerie James, Angela Raynor, Sylvia Weinstock and Elizabeth Falkner – joined James and others for a Q&A session. It's clear the message of the film resonated.
"I get messages every single day in my Instagram from many people that see the film and they tell me things that they've never told anyone," said Chef Raynor. "And I am their person, and I will remain that person for anyone who needs that person to tell things that are unconscionable that happen to you in the industry.
"So be that person … do the right thing. Don't make excuses. It's unacceptable to abuse other people, to diminish someone's spirit and to destroy them."
Other chefs/restaurateurs featured in the movie include Elena Arzak, Mashama Bailey, Lidia Bastianich, April Bloomfield, Cat Cora, Maria Loi, Barbara Lynch, Carrie Nahabedian and Michael Anthony.
For more information about A Fine Line, visit the website here. You can also follow along on Facebook, Twitter and Instagram.
---
For International Women's Day in 2019, the Chef Works® blog talked with several chefs about the future of women in the industry – including Chef Falkner and Chef Amanda Cohen. Read what they had to say here.