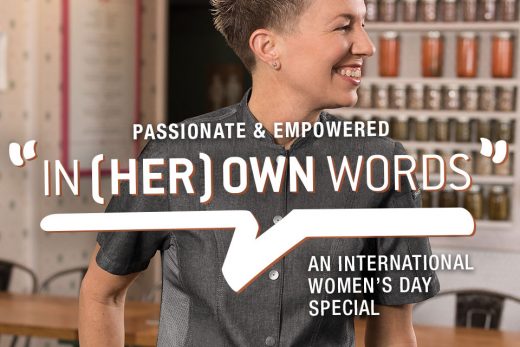 Today is International Women's Day and there will be events across the globe that shine a spotlight on many of the challenges that women face and have overcome.
"In their own words…" grants a forum to chefs to discuss issues that are important to them. So we're turning this space over to some of the most influential women in culinary to get a forward-looking perspective on the industry. We're thrilled to have these chefs discussing the future of culinary … in their own words …
Q: What do you see for women in the industry in the next three-to-five years?
---
"There's a hopeful answer and a cynical answer to that question.
The cynical answer is that there will be a backlash against the #metoo movement and cultural gatekeepers will decide they've done enough and what are all these women whining about anyways? In 2025 we'll still be seeing panels at conferences about women in kitchens and the hardships they face, and there will still be symposiums on addressing inequality in restaurant kitchens, and it will all continue being lip service that makes the men in charge feel good about themselves while allowing them to make absolutely no changes whatsoever.
The hopeful answer is that this is a process, and in five years I'd like to see:
Chefs refusing to appear at conferences and on panels that don't have an equal number of women invited to speak.
Conferences that don't have serious female representation (and more representation from chefs of color) are no longer taken seriously.
Awards that reach outside the circle of white and male and are interested in honoring the real best of the best.
Journalists realize everyone is bored of their puff pieces about white guy chefs and they start looking for other things to hyperventilate about. Also, they realize no one will take their articles about the "Best Potato Salad" recipe or "Five Stews for Winter" seriously unless they speak to as many female chefs as male chefs to get quotes and recipes.
There's finally a stigma attached to eating at restaurants owned by chefs credibly accused of rape and harassment and their customers pursue other dining options.
Despite everything, I'm an optimist, so I'm staying hopeful."
—Amanda Cohen, James Beard-nominated Chef and owner of Dirt Candy in New York
---
"I see everyone listening to women's voices and taking direction from us, and financially investing in our ideas. We have many broken systems that need to be tossed out and we need better approaches to food-growing and care for our health and the health of the planet.
There are a lot of female chefs who should be running multiple restaurants or programs who never get asked or backed and I see a shift in our paradigm."
—Elizabeth Falkner, James-Beard-nominated chef, author and president of Women Chefs & Restaurateurs.
---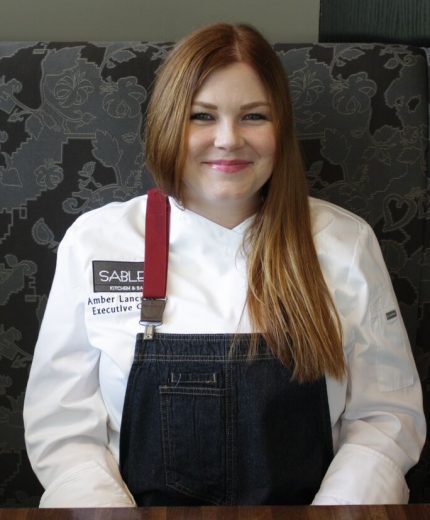 "I believe our industry holds a couple of different outcomes for women in the future. I see an increasingly amazing amount of female sous chefs and line cooks whom I mentor come through my kitchen over the past couple years, which is a great sign to see more and more of us fighting our way through the ranks.
I also notice that larger companies are intrigued by females in the work place as we tend to be a tad bit more organized, and it is essential in our industry to be so well-organized that we are using our time management skills to the best of our abilities because in the restaurant industry we make money on pennies.
This is a tough industry that will eat you alive if you allow it to do so, and with all of the female empowerment and movements currently taking place I see our strength in numbers increasing one day at a time."
–Amber Lancaster, Executive Chef, Chef Consultant, Food Network regular, Sept. 2018 Chef of Chef Works
---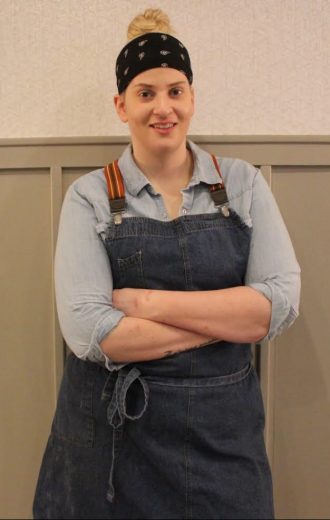 "Women have been making waves for years now and will continue to make history. We are strong, but stronger together.
We're ground breakers, doers, workers, inspiring while being inspired, making history while making 'Herstory.' With Chefs like Dominique Crenn, Amanda Cohen, Elizabeth Falkner, and Nancy Silverton, just to name a few, they all have one thing in common — they teach us to be bold, be brave and don't let anyone tell you that you can't because the possibilities are endless.
The future for women is bright. We are always on the horizon and the future will always be Female."
—Allison Fasano, Executive Chef at Harleys American Grille, February 2019 Chef of Chef Works
---
"I see women bringing 'home' and 'family' back to the kitchen.
Restaurants used to be a part of the family where everyone knew everyone. The local restaurant was an extension of the family. Women are the heart of the house and with more women leading, owning and building, the culinary future will be filled with love, warmth and a return to family — leading back to a more heart-felt, intimate dining experience from baked breads, brunch and dinner. Women are the "Heart of House.'"
–Maeve Rochford, Owner and Executive Chef at Sugar and Scribe, Food Network Holiday Baking Champion. 
---
If you'd like to be a guest columnist for the Chef Works blog and have a topic you're passionate about, email your thoughts to kgemmell@chefworks.com