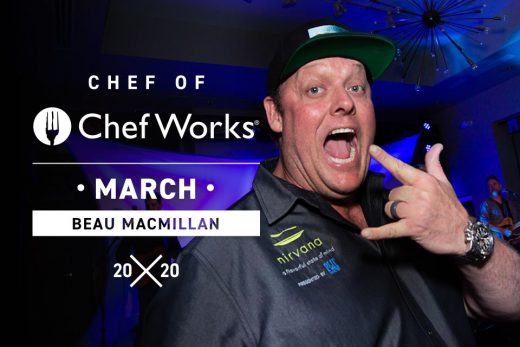 ---
Each month we feature a Chef of Chef Works®. If you're a fan of Chef Works gear and are interested in being featured, email kgemmell@chefworks.com. Pictured above is our March Chef of Chef Works®, Beau MacMillan, photographed at last year's Nirvana Food & Wine Festival in his Detroit Short Sleeve Denim Shirt. 
---
There are few celebrity chefs who project their personality bigger than Beau MacMillan. His New England accent is unmistakable and his laugh is unequivocal. His resume is as extensive as it is impressive. These days you can catch him on the "Tournament of Champions" on the Food Network, hosted by Guy Fieri.
When MacMillan isn't doing the TV circuit, he's the executive chef at Sanctuary Camelback Mountain Resort and Spa in Scottsdale, Ariz. Chef MacMillan, 49, took some time to chat with the Chef Works® blog about his passion for food, family and the new-school style of running a kitchen.
Give us that "a-ha" moment when you realized you wanted to be a chef.
Beau MacMillan: I was lucky enough to know early on. I started in high school doing short-order cooking at a ma-and-pa shop. It wasn't anything in regards to a particular dish, rather it was the energy and the pace of the kitchen that I fell in love with. Then seeing food created from its raw state to its finished state was impressive.
I started working at my first fine dining restaurant when I was 17 in Plymouth, Mass. I watched and learned and realized this could be a great job. I never imagined food could be like what they were creating. I was just learning how food can really impact you. That's when I realized that 'Hey, I'm a cook now. But one day I want to be a chef.'
I like that you used that distinction because sometimes that line between cook and chef gets blurred in our social media world. Did you ever imagine when you were coming up in the business what it would mean to be a chef in 2020?
BM: Never. I'm one of those guys where, at the end of the day, I still ask myself why I deserve all of this attention? When I came up, the joke was if you wanted to make money, find a new job. We were laborers, and working in a kitchen was a labor of love. I realize how blessed I am to live in a time where chefs are treated like rock stars.
I'm fine with that platform as long as people are using it to do what's right. I think you can benefit a lot of people. It's when people start believing their own press clippings and their own BS that things get misguided. Real chefs are about other people. Real chefs are about giving. Real chefs want to make the guests the stars. I've seen both sides – the humble and big egos. I really try to stay humble.
You were raised in old school kitchens where there probably wasn't much focus on mental health. It's a different world in 2020. How do you take that into account running your kitchen at Sanctuary?
BM: I think that ties in to what we were just talking about. You're nothing without your squad. My kitchen isn't a one-man show. I want my team to be strong mentally and strong physically. I want them to know where they stand every single day. There is a metric for everything and you're only as good as your last plate. I want my kitchen to be honest and I want them to know I value them.
At the same time, we live in a very sensitive world now. This is a tough job. I worked in kitchens that were controlled through fear. While that might have been effective, you just can't do that anymore. I hope I've created an environment where young culinarians can be inspired and grow. I want them to always evolve. Can you set the menu on Day 3? No. But I want my crew to know that they can be involved in the process. I think that's what creates a good culture.
What do you love most about what you do?
BM: I think that's a tougher question than it appears to be on the surface because there are so many layers to it. I think for where I am now in my life, I love working with young culinarians. I love showing them possibilities and the potential and helping to set them up for a long run in this career. I still love to cook the day-to-day dishes. But I've also started to really embrace some of the challenges of the business. How do you drive more business to the bar? How do you keep food costs down? How can we be more sustainable? When do you change something even if it's a star on your menu? I'm at a fun point in my career where I can really play with creative ideas.
I think a lot of people see the big personality on TV and assume you're the kind of person who wears your emotions on your sleeve. Is that pretty accurate? Or is there something about you that might surprise people?
BM: Not really. I only know how to be one person and that's me. And I either have a million people to thank for that or a million people to apologize to. I'm passionate about life. I have a beautiful wife that I've been married to for more than 17 years. I have five kids. Food and career drove me for so long. Now I want to find ways to work harder and smarter so I can get more time with them.
I'm still just a kid from New England. But I've found that food is a way to tap into a lot of streams. It's a common denominator and it was my first love and my first language.
We know you're involved with a lot of different philanthropic endeavors. Anything you'd like to talk about?
BM: At the Super Bowl, I was fortunate enough to represent the Arizona Cardinals in the NFL's Kick Hunger event. I placed second and we helped raise more than $80,000. Locally, I'm really hooked on the Mission Possible Café. They help pull people off the streets and help them to rehabilitate and get them in a program where they can work in a restaurant. I went down there and met with one of the board members and she asked if I could help out.
I wasn't just going to make a couple of recipes and send them in. I coming down, I'm meeting the people and we're going to do this together. I met a woman who was living in her car with her daughter for two years. It really touched me. They house you, give you hope through food and turn your life around.
---
Meet the 2020 Chefs of Chef Works®: 
Meet the 2019 Chefs of Chef Works®: