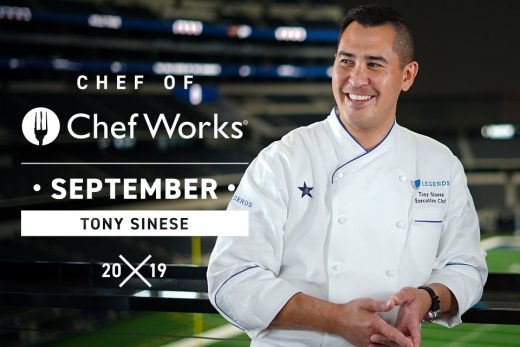 ---
Each month we feature a Chef of Chef Works. If you're a fan of Chef Works gear and are interested in being featured, email kgemmell@chefworks.com. Pictured above is our September Chef of Chef Works®, Tony Sinese, photographed at AT&T Stadium in his Bali Executive Chef Coat. 
---
The NFL season has officially kicked off. That means it's time for Tony Sinese to embrace the thrills and the chaos that come with being the executive chef at AT&T Stadium, home of the Dallas Cowboys. Between the NFL and college games, he'll spend the next few months prepping food for more than 90,000 fans each week.
He took some time to chat with the Chef Works® blog about working in the NFL, how he got his start and the pregame ritual that brings him and his team together.
Give us the rundown of everything you do at AT&T Stadium.
Tony Sinese: I am blessed to work alongside the best culinary team I could ever have imagined. The idea of orchestrating a successful food and beverage experience and program for 90,000-plus fans every week is amazing and daunting, but also extremely fulfilling. It keeps me humble and grounded.
Was there an "a-ha" moment when you realized you wanted to be a chef?
TS: When I was 14 years old I received my first piece of mail and it was from the Restaurant School in Philadelphia. I thought that they personally sought me out to join their elite culinary team. I felt like I had just been asked to join a secret society or go on some sort of top secret mission.  Then my dad had to burst my bubble by telling me it was 'a pre-sort flyer, you dork.' I love that man to death. And yes, I ended up going there for culinary school.  My background is in hotels and country clubs.
Was your family big into cooking?
TS: My whole family is in the medical industry and growing up around that, it made me want to make people happy – whether that was serving food or being in the medical field. Both of my parents are amazing cooks and they had dinner parties with friends who were from the West Indies and Korea. It was eye-opening for sure to be exposed to those authentic flavors at a young age.
---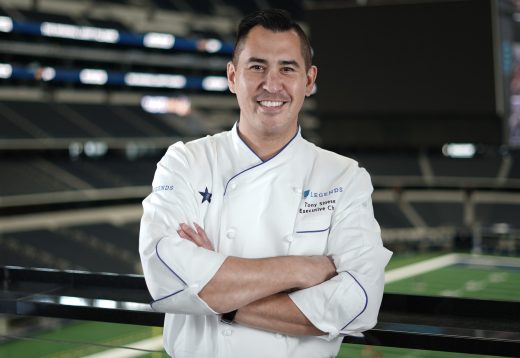 ---
How did your career arc bring you to AT&T?
TS: I owe it all to my wife Heather, actually. We were living in Denver and she is a fellow chef who earned her chance to take a senior role at a top hotel in the Dallas-Fort Worth area. One day she came home and declared 'We are moving to DFW!' My first reaction was that it's pretty hot in Texas. A couple weeks later I received a call from Cowboys Stadium, as it was then known, and to come in for an interview.
How'd that go?
TS: I didn't know football or even do football. I cooked for a living. So I walk into this brand new stadium and walk into the biggest kitchen I have ever personally seen in my life with every chef's fantasy piece of equipment and toy. I asked the chef 'What can you possibly need all of this to cook just hamburgers and hot dogs?' He laughed and said 'Son, we go from serving tens of thousands of game day foods to ultra-high-end, 14-course plated meals for thousands of guests and everything in between.' Needless to say, I was intrigued and sold on a journey that I had no understanding of and where it would take me. Little did I know that I would be staring down the barrel of the 2011 Super Bowl just months away.
How does your menu reflect the region – or do you take the visiting team into account from a culinary standpoint?
TS: Our menu creation is to show respect to both regions for the teams that are on field and especially their fans. It is exciting for our Cowboys fans to experience other regional cuisine and for the fans that travel here to show support for their team to enjoy some down-home Texas cuisine.  That keeps it fun and maintains inspired work for all of us.
What's your favorite part about the job?
TS: Meeting my team 10 hours before kick-off on the field at the 50-yard line, on the Cowboys Star, discussing our strategy, taking a knee and giving the day to Him.
---
Meet the other Chefs of Chef Works® for 2019: