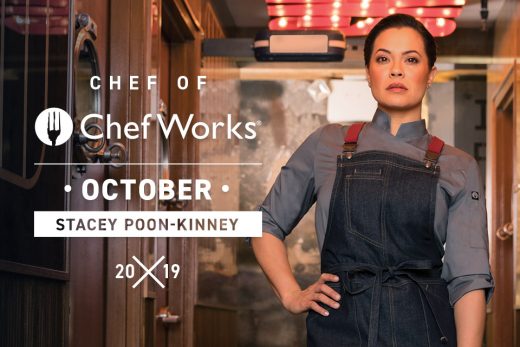 ---
Each month we feature a Chef of Chef Works. If you're a fan of Chef Works gear and are interested in being featured, email kgemmell@chefworks.com. Pictured above is our October Chef of Chef Works®, Stacey Poon-Kinney, photographed by Chef Works® in her Women's Lansing Chef Coat and Berkeley Bib Apron.  
---
How does a communications student, turned professional break dancer, turned front-of-house manager, end up on "Restaurant Impossible" and "Food Network Star?" Meet Stacey Poon-Kinney, this month's Chef of Chef Works®, who took a roundabout way to the kitchen.
Today she's thriving as chef-owner of The Trails Eatery in San Diego. She took some time to chat with the Chef Works® blog about how a back-of-house training changed her life, not being afraid to ask for help and the challenges of work-life balance.
You're in a very different spot than where you thought you'd be 20 years ago. How'd this all come together?
Stacey Poon-Kinney: I went to college at UC-San Diego and was a communications major studying video production. But I was also a professional break dancer with several troupes across the West Coast. Somewhere in between I also opened a tattoo shop.
It wasn't until I started as an assistant general manager working the front of house that things started to click. I had to do a back-of-house crash course as a manager. This was a 550-seat restaurant and I was running sauté on a Friday night. It clicked, this is where I'm supposed to be. This is what I'm supposed to be doing. Once I bought The Trails Eatery (in 2007), I was cooking full time.
But it wasn't always smooth sailing. How did a TV appearance change your fortunes and your perspective?
SPK: Honestly, we were bleeding money. I couldn't support my family and a friend recommended I apply for Restaurant Impossible.
It's kind of weird to be a chef going on TV and asking for help. But I think there is something to be said for that. Everyone needs help sometimes. And to have it done publicly was humbling for me in so many ways and so important to my growth and my development as a person. That helped open the door to me being on Season 9 of Food Network Star, which was an amazing experience.
How do you find that work-life balance between having a family and running your own business?
SPK: First off, balance is a lie. Sometimes being married is a mess. Sometimes being a parent is a mess. I've given myself room to tell myself it's not always going to be the way I want it.
Let's be honest, we're all in this business because we're perfectionists and we're not about doing things part way. We don't want to just be 'OK' with what we're doing. We're all reaching for excellence.
But on any given day, in any given realm of my life, any hat that I wear, I will feel better about one hat than I do the other. The scales are constantly tipping. Sometimes I'm working an 85-hour week. Just the way it goes. I've got events, I'm pushing a new menu, I'm filming a TV show, I've got a sick kid, I forgot something at Girl Scouts. Some weeks you just give it everything you've got for as long as you can. And then you can't.
That sounds exhausting.
SPK: It is.  But I think a lot of it has to do with the team I have. I don't hire skill sets. I hire people. Skills can come. I can teach anyone anything. So I hire amazing people who care for this place so when I need to step away, they've got my back. And when they need to step away, I've got their back. I'll serve, I'll hostess, I'll cook. That all comes with owning your own place – but it also comes with having a staff that you trust and trusts you.
---
Chef Stacey Poon-Kinney joined several other chefs for a discussion panel about women in the industry at the National Restaurant Association Show back in May.
---
On top of all of that, you also volunteer your time.
SPK: I'm on the board of directors for Home of Guiding Hands – which provides services in San Diego and Imperial counties to people with developmental disabilities such as autism, epilepsy and cerebral palsy. I think time is our most important commodity and it's really important how we choose to spend it. I do a lot of work with them and their gala. Sometimes we'll have a few chefs getting together and it's an amazing experience sharing that with people who are passionate about service and passionate about food.
You've got one person to cook for, alive or dead, who is it and what do you make?
SPK: Easy, fried chicken for my great grandmother. She was our culinary matriarch. I remember as a kid, you could smell in the neighborhood when she was cooking her fried chicken. There's a cast-iron pan that's been passed down. I still have it. She was the kind of person who loved on you with her food. Making that for her would be a celebration of who she was in my life and how her food brought us all together.
---
Meet the other Chefs of Chef Works® for 2019: