What started as a conversation between a couple of Chef Works employees has blossomed into an initiative that has helped support thousands of frontline culinary workers over the last month.
The idea itself was simple: Give away 20,000 aprons to those who are cooking on the frontlines, supporting frontline workers or chefs/restaurant groups staying open under difficult circumstances to serve their community. Donate the aprons, pay for the shipping and let them know they are appreciated for all they are doing.
"Unfortunately, during times like these, you see a lot of people trading on fear, price gouging and selling inferior products," said Chef Works CEO Neil Gross. "We weren't interested in any sales schemes or gimmicky hooks. Where others saw an opportunity to profit, we saw an opportunity to contribute to something greater than ourselves.
"We wanted to cut through all of the noise and get our apparel into the hands of the people who needed it as quickly as possible with zero cost to them. We're very proud that we have been able to accomplish that."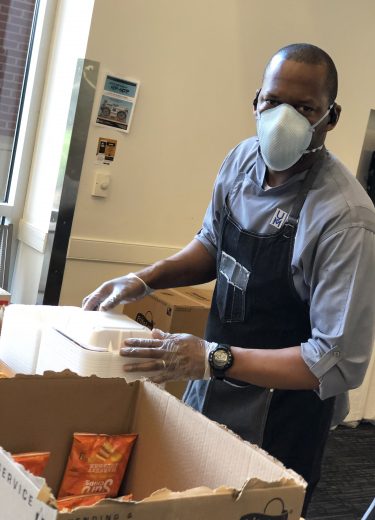 As the Chef Works "20K Apron Giveaway" comes to a close, it's clear that the positive ripples have been felt across all hospitality landscapes – including healthcare, assisted living, non-profit, education and culinary.
"This was a huge gesture on the part of Chef Works," said Chef Rudy Guerra, a sous chef with the Comal Independent School District in San Antonio, Texas. His team of 73 is making more than 5,000 meals per day for families. "Getting the aprons really put a lot of smiles on the faces of my co-workers."
Whether it was 400 aprons to a hospital in New York, 300 to a major university in the Midwest, 200 to a non-profit in Los Angeles or five to the caterer in Virginia donating her time and resources, Chef Works put out the call to the community and fielded hundreds of requests.
"The Chef Works team has been incredible partners over my last 18 years working with them," said Marshall Shakowitz, executive director of Brightwater: A Center for the Study of Food in Arkansas. "It was incredible for them to offer to help us with aprons so we can continue to prepare meals for the healthcare workers in our region. The aprons afford us the ability to have some in production while others are being laundered."
The 20K Apron Giveaway was just one of several charitable endeavors by Chef Works over the last eight weeks. The company is also giving away 7,000 neckerchiefs as additional face protection to support social distancing measures. And, using the power of its global supply chain, Chef Work procured thousands of masks for healthcare workers across the country. More are on the way for friends and partners.
---
CONNECT WITH CHEF WORKS
We're using all of our media channels to communicate important and reliable information to our community. Make sure to follow all of our socials.
---
ON THE BLOG