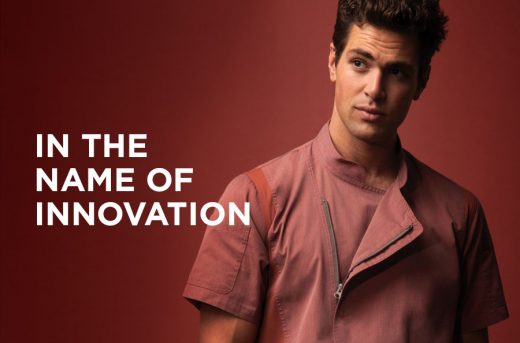 The last decade has seen remarkable strides when it comes to comfort in and out of the kitchen.
If the 2000s were about the rise of the celebrity chef, then the 2010s provided the opportunity for those chefs – all chefs – to work in added style and exceptional comfort.
Chef Works® has been there from the beginning to lead the charge.
"We're the industry leader because we can evolve with the times," said Clive Gross, chief creative officer for Chef Works®. "I think what you saw over the last decade was an introduction of more practical, lightweight and modern jackets to the industry. More importantly, Chef Works® is synonymous with all levels of chefs – not just executive chefs. We brought the modern chef coat into the global mainstream."
Some of the finest advancements from the Chef Works® design team are in the subtle changes. Whether it was the addition of our award-winning Cool Vent™ fabric, zippered chef coats or cross-back aprons, Chef Works® made perfecting the tiny details a science in the 2010s.
"More than ever, culinary is about selling a brand," said Amanda Stuckey, vice president of marketing for Chef Works®. "A big part of that brand is how you present yourself to your clientele. Whether you're a traditionalist, or have an edge about you, we've given you everything you need to customize your style and create a look that's going to be unique to your brand. And it's going to be really, really comfortable."
One of the major moments of the decade was the launch of the Chef Works® Urban Collection™ — which flipped the script on traditional culinary gear and brought a fashion-forward and edgy look to the kitchen.
---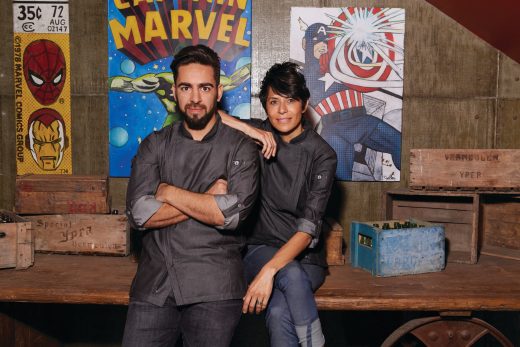 ---
Using artisanal fabrics, textured finishes and a wide range of colors – plus a healthy dose of street-inspired details – the Urban Collection™ was a game-changer for industry apparel. Chefs from fine dining to food trucks were realizing they didn't have to sacrifice fashion for comfort, and vice versa.
The Urban Collection™ also advanced Chef Works® further into the front-of-house space. Mixologists at posh bars and caffeine-fueled baristas at coffee shops loved the on-trend work shirts and aprons. Servers at restaurants and upscale cinemas realized a uniform didn't have to be stuffy and uncomfortable.
"Chef Works® has really transcended into a lifestyle brand," said Josh Gross, president of Chef Works®. "Just like a Lululemon® has yoga enthusiasts, we have performance-based apparel and understand the core of the industry and the culinary lifestyle."
Added Stuckey: "I think what you saw was a fearlessness with the Urban Collection™. It was bold and it was unlike anything the industry had ever seen. And it was that perfect blend of street-inspired styles, superior craftsmanship and stunningly efficient details."
Celebrity Chef Jet Tila, a fan of Chef Works® gear for decades, said the Urban Collection™ really spoke to him when it was launched.
"My brand isn't just Asian, but that's my core," Tila told the Chef Works® blog in a previous interview. "I'm also a kid that was born in East L.A. I'm a kid from the street. I want my chef clothes to be representative of my every day clothes. I'm a little street. I'm a little urban. I've been a fan of Chef Works a lot longer than other chefs and I have the materials to prove it."
---
---
The rise of technology – specifically social media – also had a tremendous impact on the culinary and hospitality industries by giving followers and fans unprecedented access to their favorite chefs.
"We've really seen in the last couple of decades that it's cool to be a chef," said Marisol Inostroza, product development coordinator at Chef Works®. "Younger people are getting into the industry because they are seeing chefs on social media. We have to be able to cater to those emerging trends."
In that vein, Chef Works® launched its upgraded website at the end of the decade to bring customers that much closer to our gear. Featuring 360-degree photography, video and improved customization, Chef Works® made the user journey that much easier.
Fabric technology also evolved. While the standard chef uniform went unchanged for the first couple of hundred years, the last two decades have brought greater movability and comfort.
"I think you can say that, since the 90s, there was a movement towards an over-generous fit," Clive Gross said. "Each year we get better and better at perfecting that. As the technology gets better, the look, style and comfort also gets better."
---
If you're interested in being featured on the Chef Works blog, email kgemmell@chefworks.com