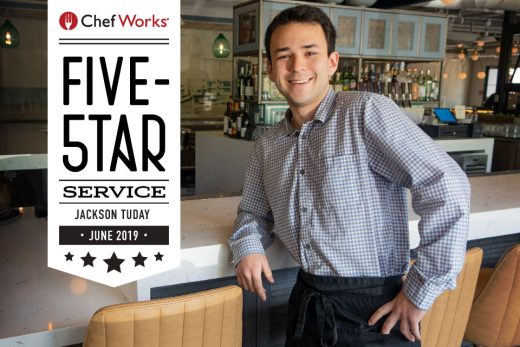 ---
Chef Works will be spotlighting someone in the front of the house each month through November as part of our "Five-Star Service" blog feature. In December, we'll ask our blog's readership to vote who has the "best story." We'll dress the winning restaurant with Chef Works gear! Pictured above is Jackson Tuday, photographed by Chef Works at The Florence in San Diego in his Gingham Dress Shirt and Two-Pocket Bistro Apron.  To nominate a server, bartender or brand ambassador, email kgemmell@chefworks.com.
---
Jackson Tuday has had a lot of fresh starts.
He watched his parents get divorced when he was in grammar school and spent most of his formative years bouncing up and down the California Coast as each parent changed jobs or got divorced. Moving a total of eight times and having been through six marriages, Tuday has developed some thick skin.
Fortunately he maintains a sense of humor and chalks those early years up to "Maybe not-so-good decision making, and probably a lot of paperwork."
For most of his life Tuday has been, by his own admission, a terrible student. But then in high school, a simple diagnosis changed his life.
"I was diagnosed with Attention-Deficit/Hyperactive Disorder and – I'm not kidding – I went from a 1.6 grade point average to a 4.3 almost overnight," he said. "It's like I had been asleep my entire life and I was suddenly awake. It changed my life."
Now 22, Tuday is studying aerospace engineering. He literally is going to be a rocket scientist.
"I'd love to be able to design rockets, satellites, jets or airplanes," he said. "I'd also like to get a master's degree at some point. My late father, Michael Tuday, was a chemist and he founded one of the first private atmospheric testing laboratories in the United States. At some point, I'd like to do something similar within the aerospace industry."
For now, he's working towards getting his degree at San Diego State while trying to be the best server he can be at The Florence, a new concept from Legal Restaurants that opened in March. Ricardo Heredia, who previously ran the José Andrés concept China Poblano in Las Vegas, serves as executive chef and authored the menu.
"It's really hard to find bad food in California, so what's going to set a restaurant apart is the atmosphere and the service," Tuday said. "I feel like it's our job to make sure customers have the best experience possible because that's what's going to keep them coming back."
Tuday does a little bit of everything for The Florence, which is themed around famed San Diego swimmer Florence May Chadwick, the first woman to swim the English Channel in both directions. She was also the first woman to swim the Catalina Channel and the Straits of Gibraltar, among other distance swimming accomplishments.
Tuday works as a barista, server, busser, bar back and he's taking bartending classes. And make no mistake, balancing school/work/life balance is a grind.
"At the end of the day, it's what keeps the lights on and I'm grateful the service industry has provided me with an opportunity to pay my way through school," he said. "I've always put work first. I've never let whatever ridiculous class schedule or personal problems interfere with my service or my job. I save all of that for when I'm off the clock. I also think that's an important distinction that most people from my generation don't understand."
Around The Florence, Tuday is affectionately known as "Toast."
"I'm not sure why," he said with a smile. "I just like to think that I'm feeling extra golden brown or crispy."
Others on the staff have their own playful monikers. Whether it's "Jay Z," "Lobster," or "Shots," the servers relish that comradery, which is a big part of bridging the culture between the front and back of houses.
"Chef likes to keep things light," Tuday said. "It's a term of endearment."
---
Want to read more Five-Star Service stories?