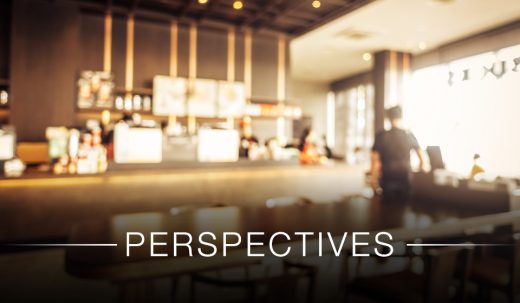 Perspectives is a short-form Q&A with culinary and hospitality professionals navigating the new landscape. Each week we'll hear from different members of various communities about their experiences in the COVID era and how they are helping their business, guests and community move forward. If you work in hospitality and would like to be featured in Perspectives, please email kgemmell@chefworks.com.
---
It's no secret that senior living facilities have endured much of COVID's impact – especially early on when we were still trying to understand how the virus spread. But despite the risks, chefs did what good chefs do – they buckled down and worked harder for the people they serve.
Chef Lyle Mathes, 42, has been on the frontlines as an executive chef at Erickson Living in Houston. His career has taken him from Beverly Hills to Chicago and a couple of stops in between. He's done fine dining and he's catered for celebrities.
After 11 years in the corporate world, opening restaurants across the country for The Cheesecake Factory, he joined Erickson eight months ago — just in time for what would be one of the greatest challenges of his career.
Chef Works: How has the job changed in the COVID era?
Lyle Mathes: Professionally, the job has changed completely for us in the senior living department. We have had to adapt our services quickly and safely in order to care for the residents that depend on us daily for their dining needs. Every member in our kitchen has had to sacrifice in order to make our operation a success. Our relationships have grown stronger. I don't know how long this pandemic will last, but I know who I can depend on and what I can expect from them. That gives me hope.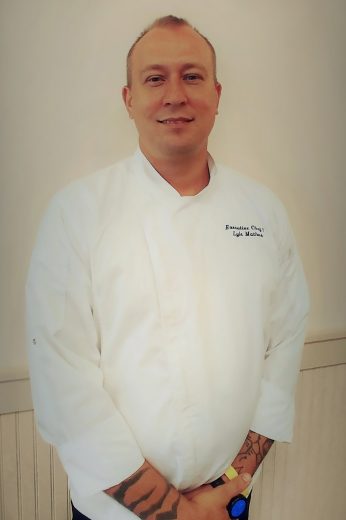 CW: Is there a greater importance on the hospitality chef – healthcare, senior living, assisted living, etc. – given the COVID climate?
LM: We serve residents who live in a variety of settings from independent living to continuing care. They depend on us. Our kitchen systems are vital to providing safe and delicious food to our residents. Making sure those systems are followed to a 'T' is of utmost importance. Proper line checks, recipe adherence, safety practices and documentation are critical during this pandemic.
I also need to make sure my staff is healthy. We do daily temperature checks and enforce all of our safety protocols. I also have to make sure my staff is mentally healthy. By that I mean do they feel supported by Erickson Living and do they have everything they need to do their job. Erickson truly cares about the individual team members. They not only talk about it, they live it every day.
CW: How has food been a comfort to your residents?
LM: Our residents have been so understanding and patient. At Eagle's Trace, our Houston location, we have successfully served more than 40,000 meals to our residents. Most have been to their front doors. I believe they look forward to our food because it gives them time to interact with us in a different way. They get to experience the effort and time we take to make their food just for them. They get a chance to relax and enjoy flavors and textures. They get a chance to enjoy something made for them. That is what hospitality is all about.
We'll surprise them with special deliveries. I've done ice cream floats, Memorial Day burgers and lemonade with fresh-baked cookies. I've been met with countless comments of gratitude and appreciation.
CW: What do you love about what you do?
LM: I love working with people. I love the fact that we are all different but we work towards the same goal. I love the fact that I am still learning. I love the fact that people depend on me. Above all I love serving our residents. I get to give back to the ones who sacrificed for me and my family to live in a land as great as this one.
---
Want more Perspectives? Email kgemmell@chefworks.com for a chance to be featured.