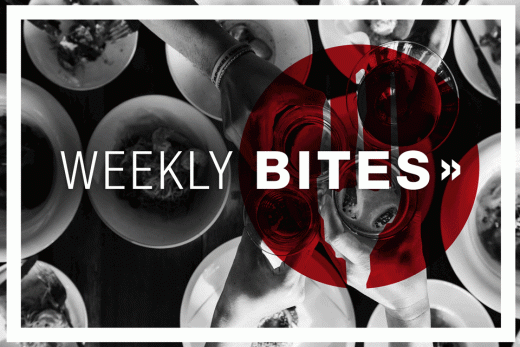 Welcome to Week 47 of 2020. Chef Works® Weekly Bites is where we take a dive into the notable and fun food stories of the week.
And of course, tomorrow is one of the biggest food holidays of the year. The Chef Works family wishes to extend a happy Thanksgiving to you and yours.
---
APPETIZER
Want to trigger a New Yorker? Tell them Chicago pizza is better. Want to ruffle up the Carolinas? Take a stand on barbecue – be it the smoky meats of the North or the mustardy/vinegary tang of the South.
Regionally speaking, few things get people's aprons in a bunch more than a good regional food debate. When it comes to burgers, many on the West Coast are all in for In-N-Out. Texans love their Whataburger. It's Shake Shack in the East.
However, many of these franchises are moving out of their regions and into new markets. Case-in-point: A new In-N-Out in Aurora, Colo., caused a 14-hour (yes, HOUR) wait.
The irony here, reports the Denver Post, is that people packed a lunch and a dinner while they waited.
At about 4 p.m., the vehicle line was estimated to be about two-miles long, wrapping around the mall property twice, [police spokesperson Crystal] McCoy said.

In-N-Out expected to sell about 60,000 burgers over the weekend at the Aurora store, burger chain officials told police.
You can read the full report here.
---
MAIN COURSE
In this week's "celebrity doing something awesome" story, we tip our cap to Tyler Perry who fed more than 5,000 families in Atlanta over the weekend. USA Today has the story.
The lobster industry in New England is hoping for some stability after four years of trade wars and uncertainty. Here's the report from the Associated Press.
The Chef Works blog apologizes for missing this story earlier. You've probably already seen it. But if you haven't, uhm, it's worth a look. The New York Post report on a man who has been banned from Yellowstone National Park for attempting to cook chickens in the hot springs.
---
DESSERT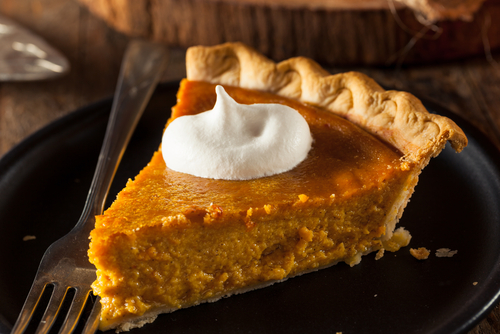 There's nothing wrong with going traditional tomorrow when it comes to dessert. Pumpkin Pie is the standard. And few will complain about it.
But if you want to go a little further than the usual holiday staple, you might want to check out this link from Delish.
It offers 67 ideas (because 68 would be too many and 66 wouldn't be enough) on how you can go beyond pumpkin pie for this year's Thanksgiving dessert.
---
FOUND THE FORK
There's a great feature in Monday's Las Vegas Review-Journal about Executive Chef Eduardo Perez, who oversees Matteo's Ristorante Italiano in The Venetian hotel. Chef recently appeared in a national beer commercial for Modelo Especial.
You've probably seen the spot (above). In the commercial, chef appears in a Chef Works Hartford Chef Coat.
You can read more about his story in the Review Journal, where he's wearing his Chef Works Delancey Chef Coat.
---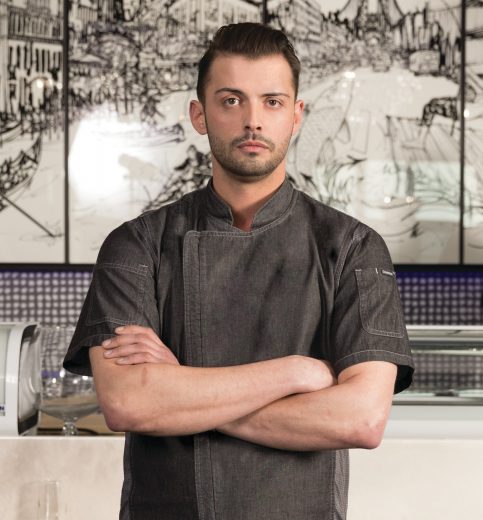 WEAR OF THE WEEK
Like Chef's jackets? The Delancey and the Hartford are two of the signature pieces of the Chef Works Urban Collection™ which flips the script on traditional culinary apparel.
The Delancey is built from 100 percent cotton denim and is a short-sleeved zippered chef coat. It's got a back-collar apron holder, multiple utility pockets and – if we can toot our own horn for a moment – it looks awesome. It has executive features, without an executive price point.
The Hartford offers long sleeves, is a poly/cotton blend of "lite" twill fabric and includes Cool Vent™ side-seam slits.
For chefs who don't mind breaking a few eggs (or rules) either of these coats are for you. And (hint, hint) we might be having some sales coming up (cough) on Friday and/or (cough) Monday.
---
Miss last week's Weekly Bites? Get caught up here. (Spoiler alert, there's another Wahlberg reference – but this one is clothed).