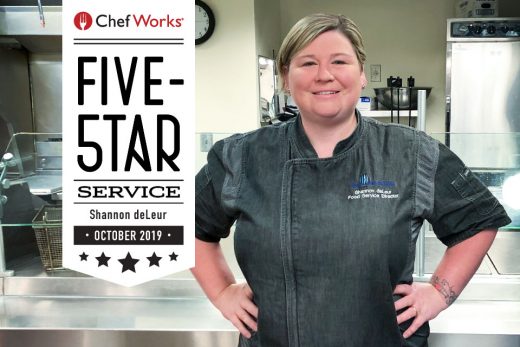 ---
Chef Works® will be spotlighting someone in the front of the house each month through November as part of our "Five-Star Service" blog feature. In December, we'll vote who has the "best story" and dress the winning restaurant with Chef Works® gear! Pictured above is Shannon deLeur, photographed in her Executive Delancey Coat.  To nominate a server, bartender or brand ambassador, email kgemmell@chefworks.com.
---
Shannon deLeur doesn't work in what you'd call a traditional culinary setting.
As a food service director for Thomas Cuisine – overseeing food operations for two Pacific Northwest hospitals — she's essentially the health care equivalent of a front-of-house manager. And like any FOH manager, that means serving, problem solving and making sure the "customer" is satisfied.
But her customers are different. When most people go out to eat, it's usually an indulgence or a celebration. They are happy to be there. But deLeur is getting folks on some pretty rough days.
"Food intake is one of our biggest control points as human beings," deLeur said. "When that's compromised – when someone is told what they can or can't eat – that can be extremely difficult. Sometimes they get some pretty bad news and they don't want to talk or eat. But it's crucial for us to get the patient eating. For us, it's as critical as a nurse giving medicine."
Companies like Boise, Idaho-based Thomas Cuisine, which oversees culinary operations in the health care, senior living and higher education spaces, have made fresh, sustainable and nutritious food center stage.
deLeur is a CIA graduate with more than 15 years of experience as a chef. In the last couple of years she's transitioned to a managerial role and is putting her professional titles – Certified Dietary Manager and Certified Food Protection Professional – to good use.
"We definitely approach our job like it's a restaurant," she said. "We do real food. We cook from scratch. We're all culinary-based and we deliver much more than food. We're focused on patient satisfaction.
"We create nutrient-rich meals. We use sustainable salmon and cod. We use natural jams and jellies and peanut butter. We have an amazing bakery 30 minutes away that uses all natural products. That's a huge part of what we do because we have people who rely on our nutritional knowledge."
deLeur's background as a chef is certainly paying dividends in her current role. She entered the food business when she was 16, got her degree at 20 and was running a kitchen by the time she was 24.
---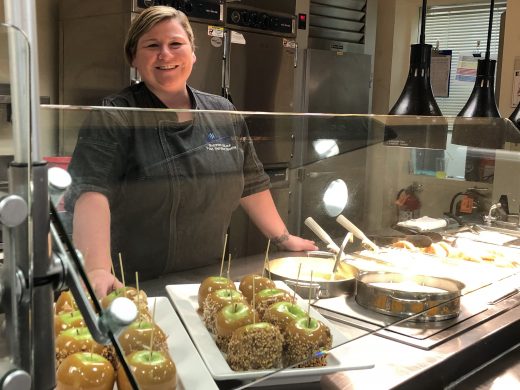 ---
Of course, like any front of house manager, she builds relationships with her clientele.
"I think working here has changed my perspective in a lot of ways," said the 38-year-old mother of two. "I think it's definitely made me a much more compassionate person and much more situationally-aware. When you walk into a room and you see a lot of personal items, you know that person is staying for a while."
She jokes that, by this point in her life, she thought she'd be running her own bakery. But as life, marriage and jobs take different turns, so goes the career. But she loves where she's at and the impact she's having on people's lives. And it's still all done through food.
"This job is about being honest, transparent and being a human being," she said. "You find commonalities. You have a genuine conversation with a patient and try to take them out of the mindset that they're in a hospital. Good, nutritious food can do that. And it's extremely rewarding when someone says to me, 'This is really, really good.' That's when we know we've made their lives a little bit easier."
---
Want to read more Five-Star Service stories?