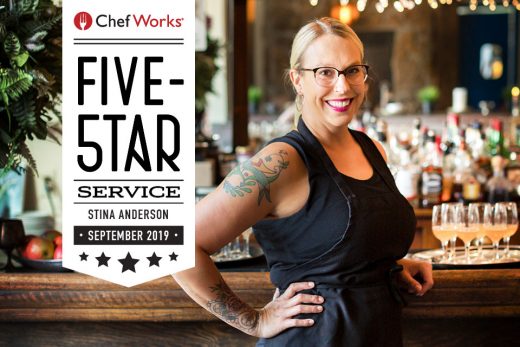 ---
Chef Works® will be spotlighting someone in the front of the house each month through November as part of our "Five-Star Service" blog feature. In December, we'll vote who has the "best story" and dress the winning restaurant with Chef Works® gear! Pictured above is Stina Anderson, photographed by Amber Ristow of Amber Jean Photography, in her Two Patch Pocket Bib Apron. To nominate a server, bartender or brand ambassador, email kgemmell@chefworks.com.
---
When writing about someone like Stina Anderson, there really isn't one place to begin. Sure, we could talk about how she was a professional archer and eight-time Wisconsin state champ. Or maybe we can talk about the marathons, the Iron Man races, or the fact that she's a volunteer firefighter and volunteer EMT.
Did we mention she also rescues animals?
"I guess way deep down in my soul and embedded in my personality is this sense of service," said Anderson, 37. "It could be service to others in need, service to animals or service to customers."
During the week, Anderson is putting her MBA to good use as a programmer analyst for Red Wing Shoe Co. But nights and weekends she's bartending, serving and managing the front of the house for Chef Shack Bay City.
"I've probably been in the service industry for about 22 years," said Anderson. "Even when I was doing environmental consulting, working in the service industry has always been a second gig."
Oh yeah — we forgot to add that she's got a Bachelor's of Science in Geology.
If you're guessing that Anderson has a tough time sitting still – you'd be right. Her career in environmental consulting – while fun – eventually gave way to her interest in analytics and data. Just like marathons and Iron Man races eventually gave way to firefighting.
---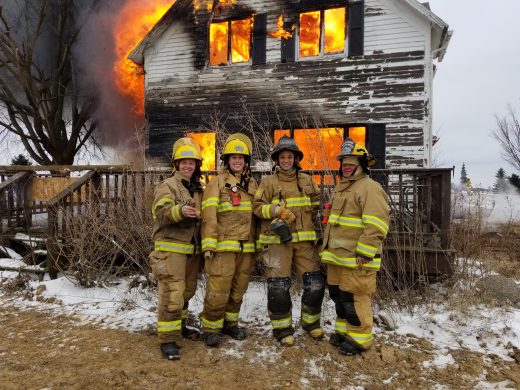 ---
"I guess that's just how I've always been. I like finding that next challenge," Anderson said. "I've never really been one to just settle."
Anderson started working with Chef Shack Bay City about seven years ago. The restaurant is run by chef-owners Carrie Summer and Lisa Carlson – a 2017 and 2018 James Beard semifinalist for Best Midwest Chef. The team goes back and forth between the Wisconsin-Minnesota state lines with a successful food truck and catering business, while Chef Shack serves as the brick-and-mortar base of operations.
"Stina is really the champion of guest services  and the backbone of our hospitality and front of house here at Chef Shack Bay City," said Summer. "She has such an organized brain and keeps all of our system functions with our data entry, payroll, scheduling and tip reporting. We're in the weeds whenever she's not here."
The team has worked several prestige Minnesota events, including the 2018 Super Bowl and the co-catering the Prince memorial concert. Anderson said she loves the comradery aspect of working with the Chef Shack team.
---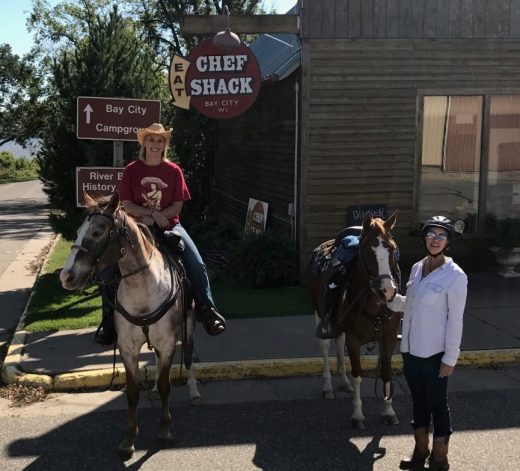 ---
"The part that I love the most is that the crew we have working together right now are all really good friends and are all very sincere," Anderson said. "We know what each other is going to say or do before we say or do it. That's really important in service when you're working in small spaces and tight situations.
"When you anticipate the needs of not only your guests, but also your colleagues, I think that's really important. That's where we're at as a group."
In the rare moments when she's not saving a life, saving a building or saving an order, she enjoys the outdoor lifestyle with her husband. She still picks up the bow to go hunting during the season – which makes sense because her father owned and operated an archery pro shop for years.
But ever the Renaissance Woman, she's looking to add to her personal resume.
"Once I became a volunteer firefighter and a volunteer EMT, I figured why not combine them?" she said. "Next I want to be a fire medic."
Of course she does.
---
Want to read more Five-Star Service stories?