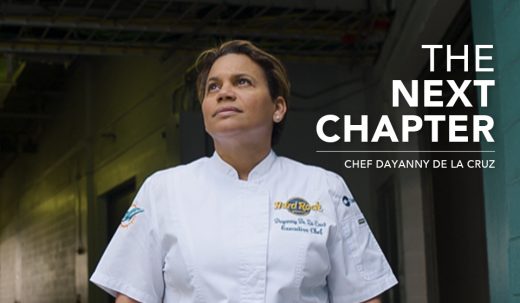 With less than nine minutes remaining in Super Bowl LIV and the Kansas City Chiefs trailing the San Francisco 49ers 20-10, quarterback Patrick Mahomes converted an unlikely third-and-15 pass for 44 yards to Tyreek Hill. It instantly became an iconic Super Bowl moment and sparked the Chiefs' 31-20 comeback win at Miami's Hard Rock Stadium.
Elsewhere in the stadium, Chef Dayanny De La Cruz was also celebrating a win – becoming the first woman to oversee a Super Bowl culinary program.
She didn't catch much of the game. But it turns out Mahomes' third-and-15 was an omen — a harbinger that even off the field, everything can change in an instant.
Now De La Cruz, executive chef for the Miami Dolphins and Hard Rock Stadium, is also trying to rally her team to a different kind of comeback.
"We went from this amazing high to feeling absolutely hopeless," De La Cruz said.
In the weeks that followed the Super Bowl, as COVID-19 evolved from outbreak to epidemic to pandemic, De La Cruz watched one by one as other stadiums canceled events. First it was a tennis tournament in Palm Springs. Then another in New York. Soon, professional leagues were postponing their seasons.
"You know when you see something in your rearview mirror and try not to let it worry you? That's what it was for me," she said. "It was like a big black cloud that kept moving on the horizon. We all hoped that maybe with a stiff wind it would blow a different direction."
But it didn't.
Following a slew of canceled events at Hard Rock Stadium, including music festivals and the ATP/WTA Miami Open Tennis Tournament, De La Cruz was forced to let the majority of her team go just weeks after the crowning achievement of their careers.
"Easily the worst day I've ever had in this business," De La Cruz said. "As chefs and operators, we ask people to trust us. 'Come here, I'll pay you better. I'll treat you better' is what we tell them. Even though everything was out of my hands and control, I felt a personal responsibility."
---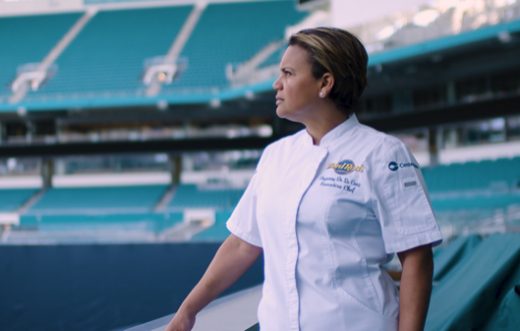 ---
Fortunately, her staff wouldn't stay on the bench for long. De La Cruz, along with her parent company Centerplate, started putting their commercial kitchen to good use. Soon they were being contracted to prepare meals for Miami seniors who couldn't leave their homes.
"I can't say enough about Centerplate and the Miami Dolphins," she said. "They gave us that light at the end of the tunnel."
De La Cruz, a cancer survivor, is in a high-risk group. But that didn't stop her when she was able to call her staff and bring them back to work nearly full-time.
"We're wearing masks, but we're still wearing smiles," she said. "We're six feet apart, but I feel like as a team we are closer than ever."
Last week they reached a milestone — creating their 200,000th meal for Miami seniors.
"I think sometimes God or the universe or whatever tests us to see how we can work through problems and find silver linings," De La Cruz said. "Yes, it was amazing to feed 57,000 people from seven different kitchens. But now we're making the difference in the lives of 5,000 elderly who can't leave home.
"I loved the Super Bowl. I will always cherish that memory. But the feeling of telling 15 people that they can work again and giving them jobs, that tops the Super Bowl — 100 percent."
As other restaurants and hospitality venues across the country start to re-open, De La Cruz has some words of wisdom and encouragement.
"Make sure they have face coverings and PPE (personal protection equipment)," she said. "You need to have absolute trust. Follow the guidelines and trust your team. I tell my team 'Take care of you so you can take care of me so I can take care of you.' Have faith. Find your silver lining."
---
You can follow Chef De La Cruz on Instagram and at her website.
---
ON THE BLOG