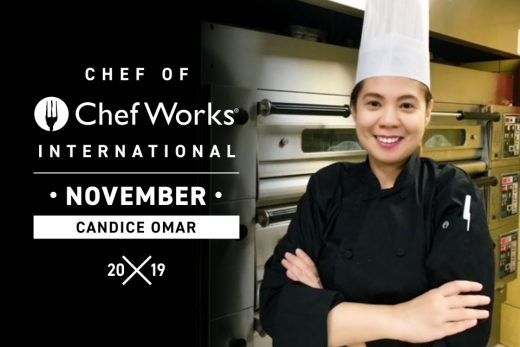 ---
Each month we feature an International Chef of Chef Works®. If you're a fan of Chef Works gear and are interested in being featured, email kgemmell@chefworks.com. Pictured above is our November International CoCW, Candice Omar, photographed in her Women's Sofia Chef Coat.
---
To hear Chef Candice Omar talk about flavor profiles and ingredients is like listening to a poet curate the proper language for a sonnet.
Her passion is obvious and her choice of words is inspiring.
"I love the authentic taste and aroma that comes from each and every spice," said Omar, 38. "In baking, it's so much fun because you can experiment with so many different combinations. It's definitely a labor of love, but cooking and baking are always in my heart."
Omar is an OTJ (on the job training) Chef at The Venue Jeddah Corniche Hotel, which sits on the eastern bank of the Red Sea in Saudi Arabia, where she works under Executive Chef Ahmed Yassin.
"I love what I'm doing," she said. "It requires love and passion for not only the flavors you're working with, but also for plating and presentation."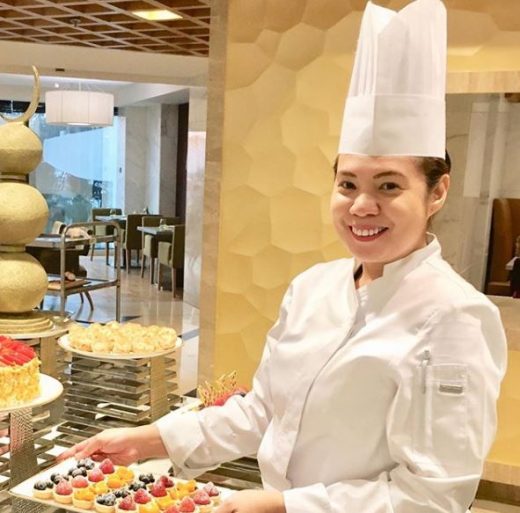 Omar has studied her craft in Bali, Indonesia, Krabi, Thailand, and Bangkok, Thailand. She has a Master in Thai Culinary Arts and continues to study baking, pastry arts and culinary arts.
"My world travels have definitely inspired me," Omar said. "I love trying different foods from different regions and then comparing and sharing notes with my fellow chefs."
As it turns out, Omar gets around quite a bit. Aside from working as a pastry chef, she's also an international flight attendant for one of the Middle East carriers – a job she's done for 14 years.
She still leans on her Thai background when creating certain dishes. Her favorite to cook is Thai Red Curry.
"I love the combination of spicy, salty and sweet that you get when you combine Thai herbs and spices," she said.
She also likes to take those flavors and meld them with the flavors of the region.
"It's so fun and inspiring when each ingredient fuses together to form an amazing dish," Omar said. "That's very inspiring for a chef."
---
Meet the other International Chefs of Chef Works® for 2019: