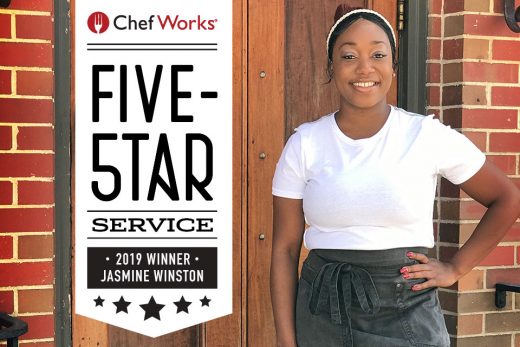 ---
In 2019, the Chef Works® blog spotlighted someone in the front of the house each month through November as part of our "Five-Star Service" blog feature. Our 2019 winner was Jasmine Winston of Columbus, Ga. She's pictured above in her Dorset Half Bistro Apron.
---
Chef Works® is thrilled to announce that Jasmine Winston of The Loft restaurant in Columbus, Ga., has been named the winner of our 2019 Five-Star Service contest.
Winston's restaurant group will receive free chef coats, aprons and shirts.
Originally featured in July, Winston touched the hearts of our blog readers with the story of her mother – a police officer who was killed in the line of duty when Jasmine was just six months old. Tomorrow night – New Year's Eve – will actually be the 30-year anniversary of her passing.
"It's been 29 years since she passed," Winston explained to the Chef Works® blog in July, "and for people to still come into our restaurants and recognize her on my face, I think that's pretty cool.
"Her loss really impacted the community. They all came together for our family. I feel like I was raised by this community. I have a lot of regular customers who knew my mom and they tell me stories. She's alive through the stories they tell."
While The Loft is where Winston works primarily, she also works at Mabella's Italian Steakhouse and Saltcellar – which are all part of the same restaurant group.
"We are thrilled to know that Jasmine's story inspired others and made such an impact," said Robyn Smith, office administrator for the restaurant group. "She is a true joy to work with, and we are grateful to have her as a part of our team. Thank you to Chef Works® for giving us the opportunity to highlight one of our own."
The Five-Star Service program began in 2018 with the goal of featuring people specifically in the front of the house – including servers, bussers, bartenders and brand ambassadors.
"We were trying to figure out ways to tell the Chef Works® story," said Amanda Stuckey, vice president of marketing for Chef Works. "What we discovered was that we couldn't tell our story without telling the stories of those who wear our apparel.
"The hospitality industry is so wide-ranging and diverse. Jasmine's story is one of thousands out there. We were honored that she opened up to the Chef Works blog and shared something so personal and touching. We can't tell all of the stories out there, but we're going to try."
The 2018 winner was Archie Ford of Oklahoma Joe's Barbecue in Broken Arrow, Okla.
---
Chef Works is taking submissions for Five-Star Service for 2020. If you have a front-of-house employee you'd like to have featured, email kgemmell@chefworks.com
---
Read all 11 Five-Star Service features from 2019.