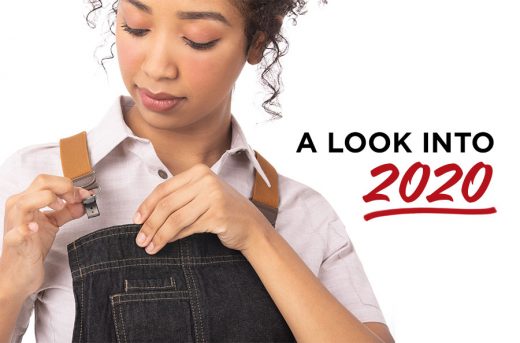 The New Year brings new opportunities for the Chef Works® blog to keep featuring those in the culinary and hospitality industries, while continuing to be a leader in industry news. 
Bookmark the Chef Works® blog and check back regularly, because we'll be updating it with 3-4 stories every week.
Here's a breakdown of what we'll be publishing each week:
          — First Monday of the month: Chef of Chef Works®. This is our most popular feature. We don't shy away from the tough questions as chefs tell it like it is in this Q&A format. 
          — Second Monday of the month: Talk of the Town. We'll take a look at cities across the country and talk to the chefs what make up that region's culinary scene. 
          — Third Monday of the month: International Chef of Chef Works®. Did you know that Chef Works gear is available in more than 90 countries? It only makes sense for us to tell some of those stories from outside of our borders. 
          — Fourth Monday of the month: Five-Star Service. This front-of-house spotlight feature tells the stories of servers, bartenders and other brand ambassadors. For the third straight year, we'll give away free chef coats and aprons at the end of the year to the person with the best "story."
Every Wednesday: Weekly Bites is a links/roundup column about fun industry news. We'll link some of the biggest stories of the week all in one spot so you don't have to search. 
Every Friday is a grab bag! It just depends on the week. "In their own words" is a guest column feature where chefs talk about the issues that are important to them. We also run recipes, industry news, product reviews and inside tips about Chef Works®. 
Thanks to all of our readers who checked us out in 2019. I look forward to telling more of your stories in 2020. 
---
Kevin Gemmell joined Chef Works® as the Senior Content Writer in 2017. Before that, he spent more than 20 years in journalism as a sports writer for various publications, including ESPN and the San Diego Union-Tribune. If you're interested in being featured, email him at kgemmell@chefworks.com