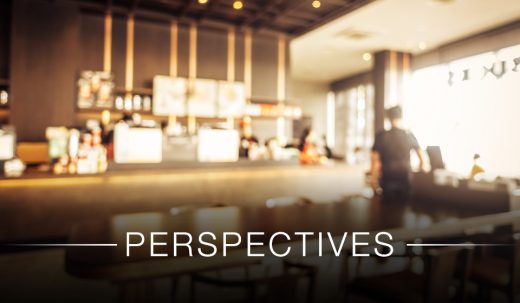 Perspectives is a short-form Q&A with culinary and hospitality professionals navigating the new landscape. Each week we'll hear from different members of various communities about their experiences in the COVID era and how they are helping their business, guests and community move forward. If you work in hospitality and would like to be featured in Perspectives, please email kgemmell@chefworks.com.
---
Chef Nick Hunter hails from a small town called New Madrid, Mo. The area along the Mississippi River, known as the "boot heel" is, give or take, where Missouri, Kentucky, Arkansas and Tennessee all come together.
There were no stop lights — just lots of family and lots of food. It's those early years, watching his grandmother cook for up to 50 people, where Hunter learned the "magic" of what food can do.
It's what eventually brought him to the East Coast to pursue cooking and a degree from Johnson & Wales University. It's what made him and his friends the Season 8 winners of The Great Food Truck Race.  And, ultimately, it's what's landed him as the executive chef for a Morrison Living facility in South Carolina.
What wasn't in his plans, however, was contracting COVID-19. Unfortunately, Hunter and his family all became infected in May. They have recovered and are healthy, but the experience underscored the importance of what Hunter does, who he does it for and why it's time to do away with stigmas surrounding healthcare culinary.
Chef Works: Given your background cooking at a resort, winning "The Great Food Truck Race" and then running a business, how does becoming a healthcare chef factor into the equation?
Nick Hunter: My wife was actually also in healthcare before she became a paralegal and she was telling me about some of the chefs she knew. When I got into healthcare, I was really surprised to see that you could still push the envelope and be creative. You could still be a chef. But you could also have a life.
It's no secret anymore that a lot of chefs work 70-to-80-hour weeks. I did that high-volume life. To me, time was more important, and I wanted to have that time with my wife and daughters.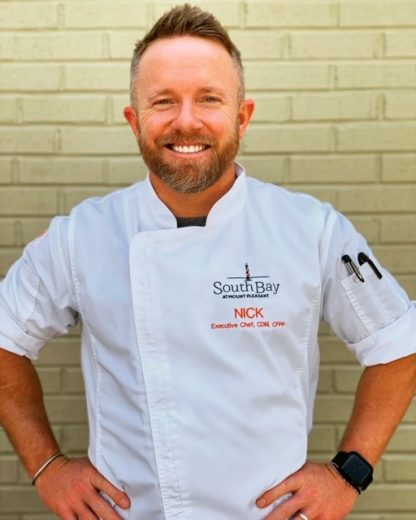 Chef Works: Speaking of family, you all were diagnosed with COVID-19 and have recovered. Everyone's experience is going to be different. But how did the experience impact you?
NH: First off, I can't say enough about how supportive Compass Group and Morrison Living were. No one panicked. My team handled the situation beautifully and there was no transmission to them. As healthcare chefs we go above and beyond the normal hygiene standards anyway and I'm very proud of how everyone handled the situation.
We all made it through OK. I'm extremely healthy and it hit me like a pretty bad sinus infection. I didn't feel awesome for a few days. One of my daughters was completely asymptomatic and another felt crummy for a couple of nights.
I'm fortunate to have the job I do and work with the people I work with because they were so supportive. I think there is definitely a stigma around COVID because there is still a lot that isn't known. My best advice would be that if you know someone – just be there for them and support them. We felt that love and support personally and professionally.
Chef Works: Speaking of your team – especially now — how important is your role to the community you serve?
NH: I would never put us on the same level as doctors or nurses on the frontline because I can't even begin to praise them enough for the jobs they are doing. But I believe the work our team is doing is very important for the well-being of our residents and I think that goes back to the idea of food being 'magic.' It can be like medicine and I continue to praise my team because I work with a group of men and women who truly care.
When you think about some of your best memories – birthdays, graduations, anniversaries, celebrations – they almost always happen around a table or a grill or a restaurant. Food has so much to do with those memories and our job is to either re-create those memories or make new ones.
It doesn't matter if it's a Monday dinner service or a Sunday Brunch. We treat every meal with that same importance.
Have the experiences of the last few months reinforced your decision to be a healthcare chef?
NH: I think it has for a couple of reasons. First, I want to be there to walk my daughters down the aisle. And working a traditional, high-volume restaurant job wouldn't afford that family time. Compass Group and Morrison Living really emphasize the importance of us having a life away from work.
But I used the word 'stigma' before. And I think there is also a 'stigma' around healthcare culinary.
I believe wholeheartedly that Morrison Living has some of the best chefs in the country. We're talking about chefs who are all classically trained and have backgrounds in either high-end catering or high-end restaurants.
We are all constantly pushing the envelope. What you're seeing on our menus, you're seeing on menus at downtown fine-dining restaurants.
We want to advance healthcare culinary to the point where we can drop the healthcare and it's just 'culinary.'
---
Learn more about Morrison Living on their website (social channels at the bottom) and Compass Group USA here (social channels at the bottom).
---
Want more Perspectives? Email kgemmell@chefworks.com for a chance to be featured.