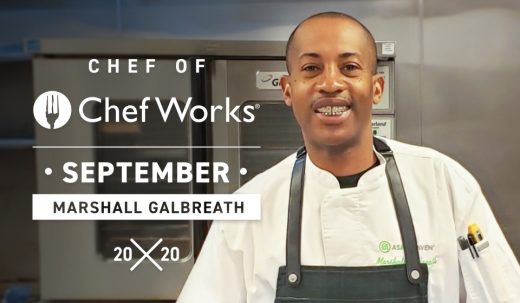 ---
Each month we feature a Chef of Chef Works®. If you're a fan of Chef Works gear and are interested in being featured, email kgemmell@chefworks.com. Pictured above is our September Chef of Chef Works®, Marshall Galbreath, photographed in his Springfield Chef Coat and Largo Bib Apron. 
---
There's a beautiful symmetry to how Chef Marshall Galbreath's life has changed over the last decade. Yes, there were mistakes. But those are what brought him to A Safe Haven Foundation in Chicago – a shelter that provides numerous services, including housing, outreach and job placement.
Once a recipient of A Safe Haven's services, Galbreath now serves as executive chef, teaching a new generation to not only develop a career, but how to live a meaningful life.
Chef Galbreath, this month's Chef of Chef Works, talked with our blog about overcoming adversity and what it means to be a chef in 2020. He also dropped a Confucius quote and the Socratic Paradox.
Chef Works: Aside from being the executive chef at A Safe Haven, you're also teaching. What do you love most about being an instructor?
Marshall Galbreath: I think it's helping others hone-in on the skills they already possess. In this community, a lot of these students are told from a very young age that they aren't going to amount to anything. That they are going to end up in jail or worse. When you hear that over and over as a child, it becomes part of your psyche. From Day 1, I tell them it doesn't have to be that way.
If you want to put in the hard work and the dedication and make the sacrifices, you will succeed. I also tell them on Day 1, as Socrates said, 'I know that I know nothing.' As long as they realize that, they can be teachable. And I love to teach.
CW: How did you get started in culinary?
MG: I was born and raised on the South side of Chicago. My first job was with a local grocer and my job was to clean up after the butcher left. While I was there, they would show me the different cuts of meat, how to trim and how to make sure the equipment and counters and freezers and coolers were all clean.
It was a job and I was making money. But I also started to understand the seriousness of what I was doing. Had I done something wrong, thousands of people could get sick. That dawned on me and safety and sanitation have been important to me ever since.
When I was in the Army, I was also eating out a lot and I re-discovered the passion I have for food. As for cooking, I've done quick to casual to fine dining to buffet.
You started at Safe Haven in a much different capacity. What brought you there?   
MG: I studied satellite communications in the Army and, after I received my honorable discharge, I started looking for ways to transition back into civilian life. It was a struggle for me. I made some mistakes. I also paid for them.
I ended up at Safe Haven Foundation as a resident. They told me if you trust and follow the process, good things will happen.  Now, 10 years later, I'm the executive chef, food service director and a culinary instructor.
CW: So you went through the program and righted the ship. Why stay? Chicago is such an amazing food town and I'm sure there are probably lots of opportunities.
MG: It would seem like a waste of all of this experience. The people here have had a lot of different challenges, and I want to show them there can be a different way to live your life. It's not just about surviving – but really living. That means you need to have compassion, empathy, patience and communication skills.
My goal is to help them change their lives. I want to show them it can happen. I made a change, and because of that I'm changing people's lives. Now if they can make a change, they can start helping and changing people's lives also. It's a domino.
Neli Vazquez-Rowland and her husband, Brian Rowland, are the founders of A Safe Haven and they trust me to run this operation. I owe so much to them. I've also had a lot of mentors like Jack Doherty, Sam Mulroe, Mark Mulroe, Barb Gorcyzca.
And of course my wife Renea – my best friend and soulmate. I couldn't do this without her undying support every day.
CW: How much of your past do you share with your students and the other residents?
MG: I share my story openly. It's nothing to brag about. But I want others to understand that just because you've made bad choices, that doesn't have to define your life. I'm no saint. I'm no martyr. But I trusted the process. And if you do that, you can have a very good life. A sustainable life.
Confucius says a man who doesn't correct a mistake is committing another. We learn from our mistakes, we rebound from them and we have the freedom to choose where we want to take our lives. For me, that's creating 1,200 meals a day, seven days a week.
CW: How do you keep people optimistic, especially during tough times?
MG: I live daily to help and make a difference in someone's life. It doesn't matter what I have on my plate. What can I do for you? How can I help you? I'm not looking for pats on the back or the spotlight. I don't have time for that. I'm interested in genuine people who want the world to be a better place. I think that's good advice and we could all use some of that right now.
---
Meet the 2020 Chefs of Chef Works®: 
Meet the 2019 Chefs of Chef Works®: