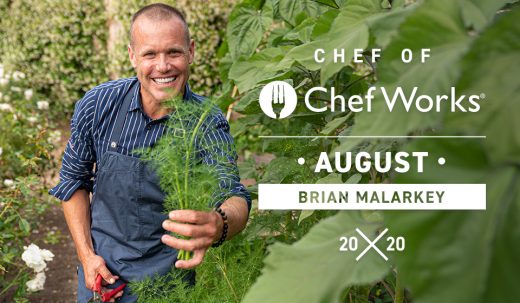 ---
Each month we feature a Chef of Chef Works®. If you're a fan of Chef Works gear and are interested in being featured, email kgemmell@chefworks.com. Pictured above is our August Chef of Chef Works®, Brian Malarkey, photographed in his Medford Bib Apron.
---
Chef Works is thrilled to re-launch our monthly Chef of Chef Works feature with Chef Brian Malarkey – one of the most recognizable names and faces in culinary.
Malarkey was one of the first restaurateurs in California to halt operations – even before the state-mandated order – because he saw the writing on the wall. He chatted with the Chef Works blog about that critical decision, how he bombed his first TV audition and why seeing Julia Child influenced him to continue his culinary career.
Chef Works: You grew up in the Pacific Northwest. Give us a quick taste of your early culinary influences.
Brian Malarkey: I grew up between Bend, Ore. and Portland. Mom was in Bend and my father was in Portland. So there were a lot of summers on the Oregon coast and playing country cowboy in Bend. Both of my parents actually raised their own meats. They loved giant roasts, pork, lamb. It was good country living.
I remember I would steal the good steaks out of the freezer and we'd go down by the river and I'd cook for friends. I saw early on how food could bring people together.
CW: And then culinary school?
BM: Yeah. I went to culinary school, but I didn't really enjoy it. I wasn't about the checkered pants and neckerchiefs. It just wasn't my 'M.O.' at all. Then I started working at Citrus in Los Angeles. The kitchen was so clean. The food was art. There were people from all cultures in the kitchen working together in this orchestrated chaos and creating this amazing food.
The kitchen was completely covered in glass and you could see all of the movie stars and musicians. But they were the ones who were looking in at us. They wanted to see what we were doing. That was a really cool feeling. So I started going in early and staying late and trying to learn everything I could about all aspects of restaurants.
CW: Did you imagine that the career would evolve into the "celebrity" status chefs enjoy now?
BM: You have to remember, this was all pre-Food Network. I remember Julia Child coming back into the kitchen with her martini and talking with Chef Michel Richard. She was famous, but outside of that, being a cook or a chef wasn't really a desired position. It was like 'Oh, you flunked out of college. Let's see if you can cook.'
Then Food Network started to take off. There was this show, Next Food Network Star, and someone named Guy Fieri won. My wife suggested I audition. So we sent in a tape and I flew to New York for an audition. I had to cook something for Bobby Flay. I completely bombed. I couldn't talk. My knife skills were all screwed up. I walked out of there thinking I was just going to be a really good chef. I don't need this TV stuff.
CW: Of course, you went on to do Top Chef Miami, Top Chef All-Stars, you're a regular judge on Food Network shows, etc. Do some of the "roots" of the industry get lost on the younger generation growing up and seeing chefs on TV all of the time?
BM: I think there was definitely a correlation between the 'celebrity chef' thing taking off and some bad habits among younger chefs. I think a lot of people get into the business because it looks fun on TV. Little do you know you're going to be working a 12-hour shift and making the same salad 75 times a night and you're not going to contribute to the menu. It's a tough, monotonous job and you go home smelling like garlic and fish.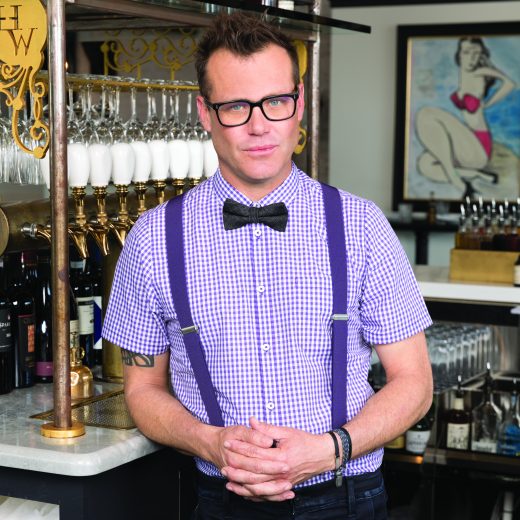 CW: Moving to what's happening now, what went into your decision to halt operations even before the mandated order came down in California?
BM: At first, we heard about what was happening in China and thought it would never make it here. Then you start hearing reports that it's in New York. And then Seattle. I used to work in Seattle and I have chef friends up there and they said 'It's devastating Malarkey. It's coming hard and it's coming fast.'
This is real. My business partner, Chris Puffer, and I were talking and determined the worst thing that could happen would be for us to facilitate and outbreak here. You could feel it getting uncomfortable. People were awkward coming into the dining room. And we just made the decision that we need to close. Until we can better understand what this is, and for the safety of our guests and employees, we needed to figure out what was going on.
Honestly, I thought it would be two weeks – a month at the most. Now we're into almost five months.
CW: Speaking of timelines, what do the next six months to three years, give or take, look like for hospitality?
BM: Sadly, the next six months look like it does right now. It will be all outdoor dining and takeout food. That's as far as it's going to get.
If I opened my restaurants tomorrow, they would be full. There is a huge percentage of the population that is not scared and treating this like the common cold. They want to be out eating and drinking. Then there is another part of the population that is very scared. Anyone over 50 is not running out to eat and have fun because there is still a lot of unknown.
My dream is that a vaccine happens and come January we all get a shot in the (butt) and we'll be immune and it's go-time again. I think there is still some heartache to get through. But in 1918, after the Spanish flu, it took two years to get things back. The roaring 20s took off and it was the largest party the world has ever seen. If you can live on the tiniest of margins and get through this, we will be extremely busy in the future.
CW: What have the last few months been like for your staff?
BM: It's been tough because at first I wasn't sure if I even wanted my team to do takeout. Comfort is in food. Providing that not only brings comfort to people, but also for the staff members. They want to produce food. Cooking is 'normal' for all of us.
We're about creating food that families can share, and fostering that sense of community, has always been the goal of our group.
We're about sharing stories, making stories and having people laugh around big plates of food. I really believe we'll get back there.
---
Meet the 2020 Chefs of Chef Works®: 
Meet the 2019 Chefs of Chef Works®: